Which Hedgewar? | The Indian Express
Which Hedgewar?
Pranab Mukherjee's description of RSS founder does not stand up to scrutiny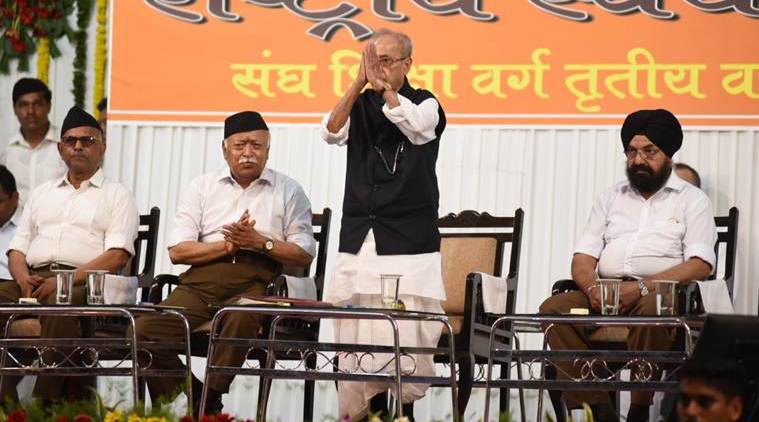 Former president Pranab Mukherjee at RSS event held at Nagpur. (File)
As a learned former president, Mukherjee should have been familiar with the official biographies of Hedgewar penned by senior RSS cadres like N H Palkar, H V Seshadri, H V Pingle and C P Bhishikar. These describe many shocking facts that raise serious questions about Hedgewar's credentials "as a great son of Mother India".
It was at the Lahore session of the Congress that a resolution demanding complete Independence was passed, calling upon Indians to celebrate January 26, 1930, as Independence Day (and on every January 26 in the future) by saluting the tricolour as the national flag. According to Palkar, Hedgewar opposed this call and instructed RSS cadres to bow before its own flag — the bhagwa dhwaj or saffron flag. According to him, the circular carrying this instruction asked all heads of shakhas to meet their respective swayamsevaks at 6 pm on Sunday, January 26, 1930, and offer, "salutation to the National Flag, that is, the bhagwa dhwaj". Thus. Hedgewar refused to accept the tricolour, which had become a symbol of a united, inclusive freedom struggle.
It is through Pingle's biography that we come to know that Hedgewar played a leading role in heightening communal polarisation. By 1926, playing music outside mosques was the main reason behind a spate of communal riots. Here's how Hedgewar personally led the Hindus of Nagpur in 1926 in this kind of aggressive communalisation: "Once, on a Friday, musicians while passing in front of the gate of a mosque stopped playing music. Then Doctorji himself snatched the drum, hanged it on his neck and played it. Only then the playing of music could start outside the mosque."
Pingle's biography also reveals that Hedgewar did not mind practising untouchability in order not to antagonise high-caste sympathisers. According to Pingle, in Nashik, Hedgewar went to the home of a Brahmin, Dr Gaidhani, along with Krishna Rao Wadekar and Bhaskar Rao Ninave. When the time for a meal came, Ninave — who happened to be from a "low" caste — asked Hedgewar whether he should sit separately. When Wadekar suggested that there was no need for this, as Gaidhani had no way to know Ninave's caste, Hedgewar openly disagreed with the suggestion. Hedgewar's logic was that it would cause immense pain to Gaidhani. He went on to add, "and what benefit will we get out of it? On the contrary, if he sits separately for the meals that [action of his] will leave a far better impression on Gaidhaniji. Our swayamsevak may feel a bit hurt but in the view of our work, this much pain should be tolerated. First we should win him with our love then these differences will disappear."
The RSS under Hedgewar kept aloof from the freedom struggle. He went to jail twice (1920 and 1930) at the call of Congress, but otherwise, the RSS scrupulously avoided any political activity which could be construed as being against British authorities. According to Bhishikar, "After establishing [the] Sangh, Doctor Saheb in his speeches used to talk only of Hindu organisation. Direct comment on the government used to be almost nil". Pingle presented Hedgewar's rationale for not participating in the freedom struggle. When asked why there were no speeches against British rule in the RSS, "Doctorji replied that 'Only by having the goal of forcing the British out the British are not going to leave. The British have entered India due to unorganised nature of the nation, that has to be removed. Building a self-relying and disciplined society is the goal of Sangh'."
Hedgewar took measures to check the RSS cadres joining the Salt Satyagraha led by Gandhi. According to Seshadri, he made it clear to them that "going to jail is today considered a sign of true patriotism. There can be no salvation for the country until this type of fleeting emotion gives place to positive and lasting feelings of devotion and sustained efforts."
If Mother India could speak she would not have allowed anybody to denigrate thousands of her sons and daughters who sacrificed their lives for a democratic, secular and egalitarian India.
The writer taught political science at Delhi University.