Donald Trump to use US security review panel to curb China tech investments | The Indian Express
Donald Trump to use US security review panel to curb China tech investments
The Treasury Department has recommended that Trump use the Committee on Foreign Investment in the United States (CFIUS), whose authority would be enhanced by new legislation in Congress, to control investment deals.
By:
Reuters
| Washington |
Published: June 28, 2018 1:12:26 am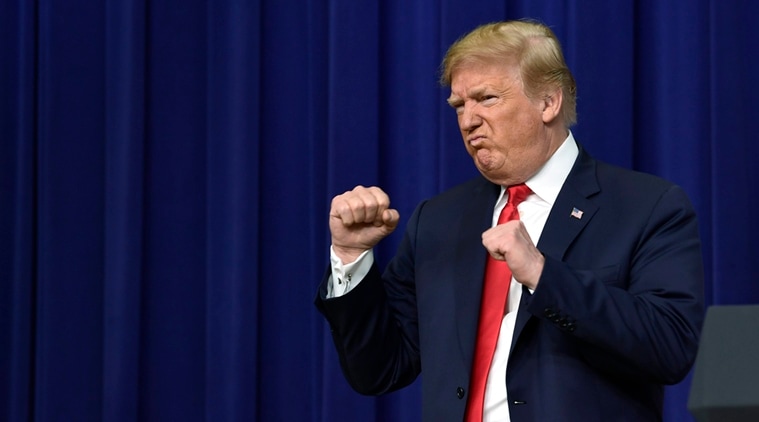 US President Donald Trump gestures to the audience after speaking at an event called Face-to-Face with our Future on Wednesday in the South Court Auditorium on the White House complex in Washington. (Source: AP/PTI)
US President Donald Trump said on Wednesday he will use a strengthened national security review process to thwart Chinese acquisitions of sensitive American technologies, a softer approach than imposing China-specific investment restrictions.
The Treasury Department has recommended that Trump use the Committee on Foreign Investment in the United States (CFIUS), whose authority would be enhanced by new legislation in Congress, to control investment deals. The legislation expands the scope of transactions reviewed by the interagency panel to address security concerns, Trump said.
The decision marks a victory for Treasury Secretary Steven Mnuchin in a fierce White House debate over the scope of such curbs.
Mnuchin had favored a more measured and global approach to protecting US technology, using authority approved by Congress, while White House trade adviser Peter Navarro, the administration's harshest China critic, had argued for China-specific restrictions.
"We are not, on a wholesale basis, discriminating against China as part of a negotiation," Mnuchin said on CNBC on Wednesday.
The investment restrictions are part of the administration's efforts to pressure Beijing into making major changes to its trade, technology transfer and industrial subsidy policies after US complaints that China has unfairly acquired American intellectual property through joint venture requirements, unfair licensing and strategic acquisitions of US tech firms.
"I have concluded that such (CFIUS) legislation will provide additional tools to combat the predatory investment practices that threaten our critical technology leadership, national security, and future economic prosperity," Trump said in a statement that did not specifically name China.
US stocks rose after Trump announced the new approach to US investment restrictions but reversed gains in afternoon trading.
Senior administration officials told reporters on a conference call that sticking with CFIUS, a process companies are familiar with, would ensure strong inward investment into the United States while protecting the "crown jewels" of US intellectual property.
Trump said in his statement that upon final passage of the legislation, known as the Foreign Investment Risk Review Modernization Act, he will direct his administration "to implement it promptly and enforce it rigorously, with a view toward addressing the concerns regarding state-directed investment in critical technologies."
If Congress fails to pass the legislation quickly, Trump said, he would direct the administration to implement new restrictions under executive authority that could be applied globally.
The decision to stick with CFIUS was a pragmatic move because the new CFIUS legislation "will put a crimp in China's efforts to move up the value chain in high tech," said Scott Kennedy, head of China studies at the Center for Strategic and International Studies in Washington.
But it will likely do little to stop the activation of US tariffs on $34 billion worth of Chinese goods, scheduled for July 6, or jump-start trade negotiations between the two economic superpowers, Kennedy said.
And the mixed messages from the administration do not help Trump's negotiating position, he said.
"It shows the Chinese that the Trump administration is still undependable and can be moved back from the most hardline positions," Kennedy added.
Mnuchin on CNBC downplayed the dissent within the administration, saying that Trump wants to hear differing views on important issues, but the administration's economic team typically comes together on major recommendations such as the investment restrictions.
Mnuchin said the new CFIUS legislation, passed 400-2 in the House of Representatives on Tuesday, would broaden the types of transactions that could be reviewed by the panel on national security grounds, including minority stakes, joint ventures and property purchases near US military bases.
"This isn't a question about being weak or strong, this is about protecting technology. We have the right tools under this legislation to protect technology," Mnuchin said.
Trump also said that he has directed Commerce Secretary Wilbur Ross to examine US export controls and recommend modifications that may be needed "to defend our national security and technological leadership."
A Commerce Department spokesman could not be immediately reached for comment on the study.
The CFIUS legislation is headed for negotiations between US House and Senate lawmakers in the coming weeks to craft a final version, with guidance from the Treasury.
A sticking point that could emerge is language in the Senate version that would reinstate the ban on Chinese telecom equipment maker ZTE Corp from purchasing US components for a year. The Commerce Department ban had effectively shut the Shenzhen-based company down, angering Beijing.
The House version has less stringent language prohibiting the US Department of Defense from purchasing any ZTE communications gear.