A journalist in the Valley | The Indian Express


A journalist in the Valley
Shujaat Bukhari advocated peace, wore many hats, walked a tightrope, in an unforgiving landscape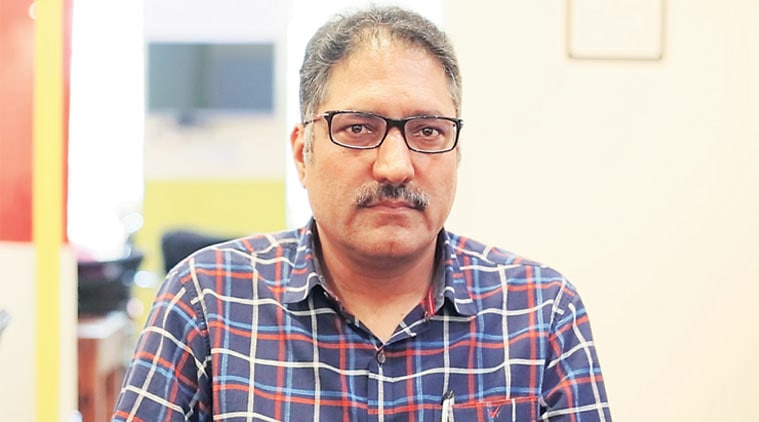 Shujaat Bukhari edited the daily Rising Kashmir.
It is perhaps the best tribute to
Shujaat Bukhari
that he was slandered by both sides of the polarised debate on Kashmir. He was excoriated in Kashmir as a "tout" of the intelligence agencies who pandered to the "Indian" narrative. Days before his brutal killing, he was accused online of being a "collaborator" and "traitor", who had "sold the struggle". Outside Kashmir, Shujaat was a target of Hindutva supporters and a gaggle of other Kashmiri-baiters. One prominent Hindutva tweeter had accused him of taking money from the government to start his paper and then "playing the ISI script". On the day he was shot, he was defending himself on Twitter against accusations of "bias" by the member of an influential think tank in Delhi.
Those who practise journalism in the harsh terrain of conflict zones know annoying everyone is better protection than being perceived as siding with one or the other. This is the tightrope walk that journalists have to perform in such places, and over the years it becomes a second skin, as instinctive as survival itself. But it is no guarantee, especially where guns get to have the last word. In fact, the balancing act itself could go against you. In today's Kashmir, unless you choose a side, you stand accused of "playing all sides". And when you choose, it had better be the right side. It's with us or against us, and there is nowhere to hide in the middle.
Shujaat was a journalist who was trying to build 'Rising Kashmir' and its two sister publications into an institution. He was a peace activist with family members in government and the ruling party. He was equally at ease with mainstream politicians in Kashmir and Delhi as he was with the folks in the Hurriyat; with police and army officials as much as he was with NGOs. He wore several hats and his Twitter timeline is a register of his many preoccupations. But Kashmir today is an unforgiving place, where many-hatted people are viewed with suspicion.
Predictably, many theories have surfaced since Shujaat's killing on who the perpetrators might be. One narrative, being discussed not as openly, is that his peace-building work had not gone down well in "certain quarters". Shujaat was part of the Kashmir Initiative Group in a think-tank called Conciliation Resources. Last year, after he and several others had participated in a Track 2 conference in Dubai organised by the group, there was much discussion on a purported "resolution" at the meeting which called for an "end to militancy". Though the conference did not formally make an announcement of any resolutions, many versions were afloat.
In one, the participants had called for a "cessation of hostilities by all sides", and said that "violence is no answer". There were newspaper reports in Kashmir, quoting Pakistani news reports, that the leader of the United Jihad Council and Hizbul Mujahideen, the Pakistan-based Syed Salahudin, did not take kindly to the conference.
"Kashmiris are not sacrificing their lives for the trade of onions and potatoes, nor for the permanent division of Kashmir. Those who participated in the Dubai Conference are working on payrolls," Salahuddin was quoted as saying, "Such conferences are futile exercises meant for monetary benefits."
He is also reported to have expressed displeasure that participants associated with the pro-freedom movement who were at the conference did not speak up. Last month, an online blog accused Shujaat and other Kashmiris who had participated in the Dubai conference of being agents of Indian intelligence agencies, accepting money from the Indian Army, and speaking on behalf of the Indian state.
Shujaat is the most prominent Kashmiri to be assassinated in 15 years. The last targeted killing was of the pro-ceasefire Hizbul Mujahideen commander, Abdul Majeed Dar, in March 2003, 10 months after the assassination of Abdul Ghani Lone, who was shot dead while he was attending the 12th death anniversary of Mirwaiz Moulvi Farooq. Each of them was advocating reconciliation and peace at the time they met a violent end.
Earlier this week, after two policemen were killed in an attack by militants in Pulwama, Shujaat had tweeted that "[I]t is heart-wrenching to see these policemen getting killed during Shab e Qadr. May the families have courage to bear the loss. At the end, two more Kashmiris lose lives. Violence must stop to create space for dialogue".
What Shujaat's killing means is that the hope that the Ramzan "cessation of operations" and the renewed commitment by the Indian and Pakistan armies to the 2003 ceasefire on the LoC would lead to more positives in Kashmir was misplaced.
Indeed, the bad portents were already there. None of the militant groups accepted the Centre's Ramzan olive branch, and there were incidents tailored to provoke the security forces every other day. According to reports, before the Centre announced its cessation of operations, from April 19 to May 16, there were 25 militant-related cases; after it came into existence, from May 17 to June 13, as many as 66 cases were reported. Hours before Shujaat was killed along with his two police guards, militants abducted a soldier going home to Rajouri on Eid leave, and killed him. His mutilated body was found in Pulwama hours later. There have also been reports of more militant recruitment in this time. And, despite the promise of the DGMOs meeting, the LoC has flared up again and again, with casualties on both sides.
Signs are that the government may scrap the cessation of operations in Kashmir. But unless it finds a way to move forward through peaceable engagement, we are staring at an abyss. Guns will rule Kashmir once again, taking everyone back three decades. Shooting your way out of situations is easy, but it does not solve anything.
nirupama.subramanian@expressindia.com
More From Nirupama Subramanian