The Army must march ahead | Opinion News, The Indian Express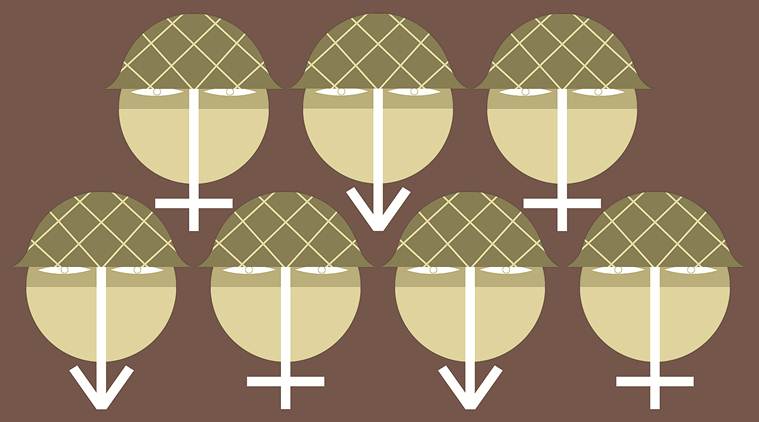 It came as a great surprise that the Army Chief, General Bipin Rawat, recently argued against the induction of women in combat, 26 years after the doors were opened for them to serve in the armed forces in a limited capacity. His argument is premised on the belief that a majority of our society is not prepared to see women in combat and deal with the consequences. The views expressed by him are often expressed in private by senior military officers, who want the armed forces to follow existing conservative societal norms.
How would they then explain that while religion remains a highly emotive socio-political issue in India driven by conservative tendencies, the approach of the armed forces is radically progressive, as exemplified by the multi-faith places of worship for soldiers? It is something the armed forces are justifiably proud of, showcasing it for others to emulate. The armed forces are truly at the vanguard of liberal and progressive thought on such a contentious issue, eschewing all temptation to fall prey to the calls of conservative societal norms.
Interestingly, the views of General Rawat's counterparts in the Navy and the Air Force are at variance with that of the Army Chief. Both have publicly argued in favour of bringing women in combat. It is true that compared to the Army, these are much younger forces, smaller in size, and their operational roles allow them to induct women far more easily. However, it must not be forgotten that there has been a lot of resistance to the induction of women even within these two services. But the resistance was overcome by a strong leadership and by the way the work environment shaped up in the Navy and Air Force. The challenge is far greater in the Army because land combat has its origins in the Stone Age, has been traditionally a male profession and the biases and prejudices against women can be camouflaged under tradition and operational effectiveness. It is a vexed question with no easy answers.
The debate points to the nature of issues that the armed forces are trying to grapple with in today's India. Inducting women in combat is just one of them; recent Supreme Court judgements decriminalising adultery and legalising consensual sexual acts, irrespective of gender, have also put the armed forces in a bind. These are revolutionary steps in the arena of gender rights. Even if the armed forces wish for an exemption from these rulings, it can only happen by an act of Parliament — a highly unlikely step, given the political cost for any party championing it.