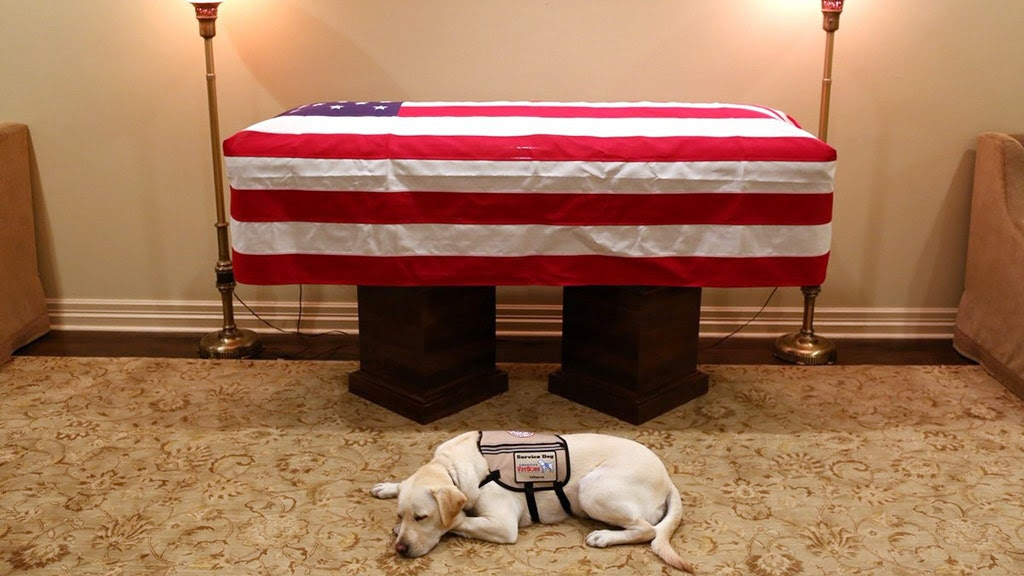 THE LEAD STORY - REMEMBERING GEORGE H.W. BUSH: Americans will begin four days of farewells to former President George H.W. Bush on Monday as his body will be flown to Washington and will lie in state at the Capitol Rotunda for public viewing ... The 41st president, who died Friday at his Houston home at age 94, will lie in state until Wednesday, the day of his state funeral at Washington's National Cathedral. President Trump has ordered federal offices closed for a national day of mourning on Wednesday and is scheduled to attend the state funeral with first lady Melania Trump and other high-ranking officials and dignitaries. Bush's body will be flown back to Houston for a private service Thursday at St. Martin's Episcopal Church, his longtime church. He will be buried at the Bush Library Center at College Station near the love on his life, his wife Barbara, who died in April and their daughter Robin, who died of leukemia in 1953.
GEORGE H.W. BUSH'S OVERLOOKED LEGACY: Dr. Marc Siegel has participated in George W. Bush's annual Warrior 100K ride for wounded veterans since 2012. In an op-ed for FOXNews.com, he recalls how the younger Bush revealed how he drew inspiration from his father, who was stricken with Parkinson's Disease, but did not let that keep him from skydiving ...
George W. Bush believed his father's incredible will to live was an inspiration for others - and Dr. Siegel agreed.
"There is only one President Bush now, but the legacy of the father lives on," Siegel writes. "For some he will be remembered most as a war hero, for how as a young navy pilot he overcame a harrowing plane crash in 1944 during WWII and miraculously swam to safety in a life raft and was finally rescued by a submarine. For others it was his efforts as vice president and then president to end the Cold War and his successful 1991 Gulf War against Saddam Hussein. For me, as a physician, it was his heroic war against the side effects of Vascular Parkinsonism which included frequent bouts of bronchitis and pneumonia, the ignominy of drooling and being bound to a wheelchair. He soldiered on, and became a role model for the chronically ill everywhere."
Click here to read the rest of Dr. Siegel's tribute to Bush 41.