Brexit: As Brexit starts to bite, more and more Brits are selling up and leaving Spain | In English | EL PAÍS
As Brexit starts to bite, more and more Brits are selling up and leaving Spain
The number of British people officially living in the country has dropped from 397,892 to 240,785 in the past five years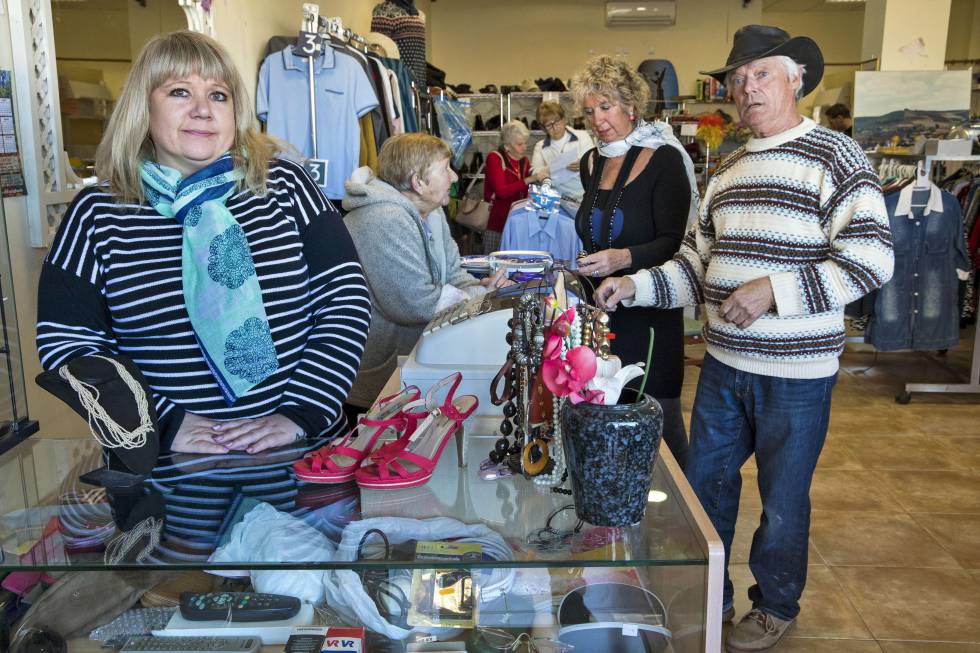 Michelle Ball (l) in her charity shop in La Xara, Alicante.
MÒNICA TORRES
Michelle Ball's store in La Xara, Alicante is not one of those everything-for-a-euro establishments, even though it might look like it. She does sell dresses for a euro, as well as plates, vases, lamps, plastics flowers and other decorative items. But her products aren't sourced from China, but rather the kitchens, dining rooms and wardrobes of local Britons who donate their goods to charity. Ball and the other volunteers who work here use the profits to help British people in the region who are sick and have few resources. This charity shop has been inundated with a trove of goods as an increasing number of
Brits sell their homes
and move back to their home country. Before leaving, they pass by Ball's shop and drop off everything that isn't worth taking with them to the United Kingdom.
"Many are returning because life has become incredibly expensive," says Ball, who is 44 years old and arrived in Valencia when she was 14. "My mother has lost €160 a month in her pension since the
Brexit referendum
because of the devaluation of the pound. Now her pension is €690. And since the Spanish government made changes a few years back she also has to pay a portion for her medicines. It's not a lot but it doesn't help either."
According to Spain's National Statistics Institute (INE), in the last five years, the number of British residents in Spain has dropped from 397,892 to 240,785 – a fall of 157,107. Part of the reduction is to do with the new regulation on municipal enrollment in Spanish regions. Official figures show that while the number of residents from 15 EU-countries (before eastern European countries joined the EU) in Spain has fallen by 25%, the number of British expats has dropped by 40%.
The INE's migration statistics also show that 102,367 British residents left Spain between the beginning of 2012 and 2017. While each year people from the United Kingdom continue to move to Spain – 88,799 in the same period – the number of
Brits leaving the country
now outnumbers those who arrive. It's a complete reverse of the previous trend, where between 2008 and 2012, 40,454 more Britons arrived in Spain than left. The number of residents and the migration balance reflect a negative trend to differing extents.
Experts indicate that the drop in British residents is due to two main factors. Firstly, changes to municipal enrollment rules revealed that there were tens of thousands of Brits who were registered in Spain but who weren't in the country, either because they had gone back home or had died without the town hall being informed. Town halls benefit from having more residents – more residents mean more funding – but there is no incentive to encourage people to unenroll from thepadrón, as the municipal register is known.
But changes introduced in early 2010 mean that municipalities must now confirm if a person is still in the area every two years, or every five years if the person is listed in the Central Registry of Foreigners. This has led to the second factor that experts argue is responsible for the disparity in official numbers: municipal enrollment now leaves out EU-members who continue living in Spain but who have not applied for residency. Many mayors in Spain – including the mayor of Torrevieja, José Manuel Dolón – support this argument.
In this case, it is in the town hall's best interest to ensure people enroll. Those with a large population of EU-residents have launched widespread education campaigns, including telephone calls, to encourage registration.
The
drop in the official number of Brits
has been particularly severe in the region of Valencia, which was the first massive residential destination for British people in Spain. In the past five years, the number has nearly halved: from 145,652 to 75,054. Andalusia has also lost many British people but not as many, and is now the Spanish region with the largest British community.
Brits in Spain believe the impact of Brexit will also force many more to leave. "I don't know if I will return. It will depend on how our health coverage ends up," says Patricia Mary Sawers, a 69-year-old former admin worker at Cambridge University who has lived in Pedreguer in Alicante since she retired. "Now the care is excellent but we don't know if we will continue receiving public healthcare here after the United Kingdom leaves the European Union. It's a big question," she adds, while sipping a cup of tea.
Many are returning because life has become incredibly expensive

BRITISH RESIDENT IN SPAIN MICHELLE BALL
Although the Valencian premier Ximo Puig has assured British people that they will continue receiving public healthcare in the region after Brexit, the issue will be decided in the negotiations between Brussels and London, or bilaterally between Spain and the United Kingdom.
The falling number of UK residents in Spain is also linked to the loss of purchasing power. As a closed community with members who tend to frequent their own bars, restaurants, stores and clubs, the Brits were buffered to a degree from the effects of the financial crisis. But this attitude has worsened the impact of the fall in the pound, as pensioners have less to spend at these establishments, argues Carmen Ródenas, a lecturer at the University of Alicante.
As the community gets older
– many Brits arrived to the Mediterranean Coast when they were over 65 at the beginning of 2000 – and are left widowed, there has been a greater push to return home, says Jordi Giner, a professor at the University of Valencia, who wrote doctoral thesis on the subject.