From plate to plough: Fielding the right incentives | The Indian Express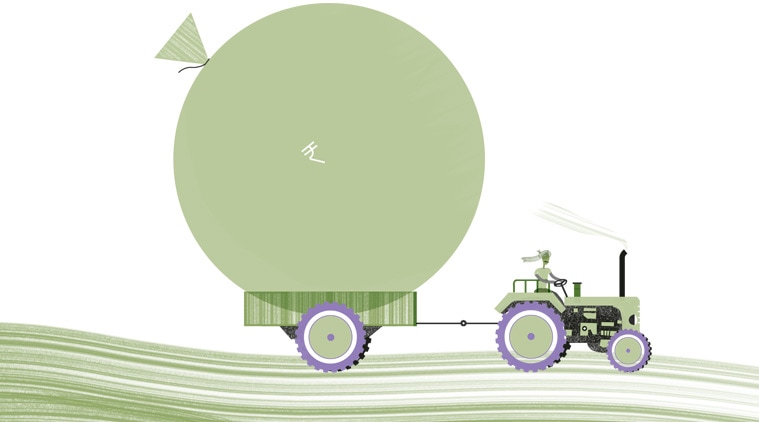 Just ahead of the announcement of the 2019 general election dates, the prime minister launched the centrally sponsored 'Pradhan Mantri Kisan Samman Nidhi' (PM-Kisan) scheme of Rs 75,000 crore for small and marginal farm families. On February 24, from Gorakhpur in Uttar Pradesh, he transferred the first instalment of Rs 2,000 each (out of Rs 6,000 per annum) into the bank accounts of 1.01 crore farm families, amounting to Rs 2,021 crore. By March 9, 2.6 crore farm families had been given Rs 5,215 crore. The target is to cover about 12.6 crore beneficiary farm families by the end of March 2019.
Although the amount involved per family is too little, and coming too late, yet direct income support (DIS) marks the beginning of a new policy direction. It can reach about 86 per cent of farm families compared to loan waivers that can benefit a maximum of 30 per cent of the peasantry and higher MSP policy which can benefit a maximum of 10-15 per cent of peasantry. However, at this stage one does not know whether this PM-Kisan is just for one year or likely to continue for the next few years. If it is just for one year, it is more a bait for votes than a genuine step towards improving incentives for farmers in a more predictable and structured manner.
Similar moves towards DIS for farmers have been made by a number of states, especially Telangana (Rythu Bandhu scheme), Odisha (KALIA scheme), West Bengal (Krishak Bandhu), and Jharkhand (Krishak Aashirwad Yojana). Each one has its pros and cons, and can be improvised in due course. But we welcome all these, especially if they continue for at least three years to alleviate farm distress.
In any case, it may be worth pointing out that such a policy of DIS is not a substitute, but a complement, to agri-marketing reforms on the one hand, and raising investments in agriculture on the other, to make Indian agriculture more productive, competitive, inclusive, and sustainable.