#MeToo: The non-apologies of sexual harassers just make it worse | The Indian Express
#MeToo: The non-apologies of sexual harassers just make it worse
Chakraborty claimed he used to use Twitter to take down others, which was bad. He was mentally unwell, which is why he acted out in this manner - and was when he'd send pictures of his genitalia to unknown women and ask others to send him pictures of their cleavage.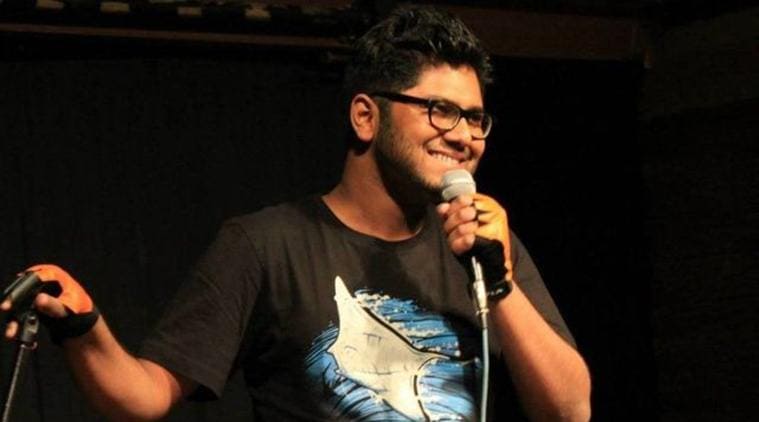 Comedian Utsav Chakraborty, who has been accused of sexual harassment apologised saying, "he was mentally unwell."
When exactly did it become kosher to send unsolicited pictures of your phallus to women who have never seen it in person, and women whom you have never met in person? People are pulling out their penises, masturbating on sleeping colleagues, and nuzzling the hair of others. It's like a low-budget, X-rated
Kapil Sharma
Show version of Sodom and Gomorrah which we seem to be living in. Ever since Tanushree Dutta decided to make a statement on
Nana Patekar
harassing her at work in 2008, it has opened up a can of worms on social media.
It started with Mahima Kukreja writing about the harassment she had faced from standup comic Utsav Chakraborty and how her complaints to All India Bakchod (AIB), where he worked, were ignored. What followed – after many retweets of her initial tweets – was the most bizarre "apology" from Chakraborty. He claimed he used to use Twitter to take down others, which was bad. He was mentally unwell, which is why he acted out in this manner – and was when he'd send pictures of his genitalia to unknown women and ask others to send him pictures of their cleavage. That he was on severe medication and barely able to get to work on a good day, but had no problem using his phone to sexually harass women while incapacitated.
This is by far the best excuse I have heard for sexual harassment till date. I have a few questions about it, though: For someone who wasn't able to get to work, unless his parents were footing the bill, how was Chakraborty paying for his medication? You can't be sitting at home, not going to work, not earning a salary, only sending vulgar pics and propositioning women. Also, is the side-effect of this mental illness, chronic and persistent harassment of women? Although the comedian's excuse does trounce R K Pachauri's excuse of simply being in love, and wanting multiple hugs from a junior colleague, whom he addressed as MY DEAR in his persistent and juvenile SMSes to her.
Chakraborty also tweeted, "It's a little too late now but I am sorry. I really am. The past 24 hours were a crucible. I faced a very scary personal truth…"I can't think of myself as a victim anymore. Please tell me what to do now. How to make things right? I don't want anyone to be hurt anymore."
Stop sending unsolicited pictures of your genitalia, for starters.
The gold standard of apologies, when caught trying to feel up your employee against her wishes, was by Tarun Tejpal in 2013 when he sent an email with the subject line, "Atonement".
"A bad lapse of judgment, an awful misreading of the situation, have led to an unfortunate incident that rails against all we believe in and fight for. I have already unconditionally apologised for my misconduct to the concerned journalist, but I feel impelled to atone further… I feel atonement cannot be just words. I must do the penance that lacerates me. I am therefore offering to recuse myself from the editorship of Tehelka, and from the Tehelka office, for the next six months". In Tarun Tejpal's letter of "atonement", more space was given to praising himself and his accomplishments, and reads more like an Oscar acceptance speech.
While, thankfully, none of those accused have resorted to such terrible purple prose, their apologies leave much to desire.
The inebriated-by-the-exuberance-of-our-own-verbosity apology: Following Kukreja's outing of Chakraborty, AIB published a half-baked apology for being called out for still keeping him in their employment. Along with saying "sorry", they also said, "we allowed our cognitive biases do the work our critical faculties should have". Either apologise, say that you ignored the complaints and shouldn't have, or just keep shut. But don't write this tripe.
The I'm-slow-on-the-uptake apology: Literary savant Chetan Bhagat was accused by a journalist of propositioning her for an affair. And to add insult to injury, he also told her that he felt their IQs matched. Another journalist said Bhagat had insisted she send him a picture of hers if she wanted him to answer her questions. Bhagat posted a long apology to the first woman, which was better written than any of his books, and had fewer grammatical mistakes (maybe his lawyer should be hired by Rupa Publications as an editor). Bhagat's apology said, "…I realised I was married and this was not about looking for any action. I just had not felt that kind of connection in a while. Maybe I was going through a phase, maybe these things just happen, or maybe I felt the person felt the same too based on our conversations."
However, Bhagat did not respond to the second accusation. And the less said about the fact he had momentary amnesia – where he forgot that he was married – the better.
I'm scum, but have a heart of gold apology: The most recent revelation is that of actor-director Rajat Kapoor. After being accused of asking a journalist for her measurements during a professional interaction, and repeatedly telephoning another, Kapoor tweeted: "All my life I have tried to be a decent man, to do the right thing. If however, I have slipped and through my actions or words caused pain or hurt or trauma to absolutely anybody, please accept my apology… I am sorry from the bottom of my heart – and sad that I was the cause of this hurt to another human being. If there is one thing more important to me than even my work, it is to be a good human being. And I have tried to be that person. And now, I will try harder."
But his definition of being a "decent man" seems to be quite fluid. And maybe he does need to try far harder than he has so far.
The I don't give a shit and am above it all apology: The man whose handsy ways started this much-needed domino effect of others being named is the one who sets the bar for the non-apology. Nana Patekar, after not making a statement for weeks, pushed aside mikes at Jodhpur airport and said, "I have already answered… Jo jhooth hai woh jhooth hai [what is a lie is a lie]". He also called a press conference which was then cancelled. He has also sent a legal notice to Dutta to submit a written apology to him.
The we are trying to cover our indifferent derrieres and doing a really shoddy job of it apology: Then, of course, there's Vikas Bahl, the director of Queen, who has kept mum since being accused of harassment by a former employee of Phantom Films. But it's the apologies and actions of his very "woke" business partners, Anurag Kashyap and Vikramaditya Motwane, which are marvellous. Phantom, which didn't have a Vishakha committee or an Internal Complaints Committee, has suddenly been disbanded. Supposedly because Kashyap and Co are so upset because they have "failed". A clever move, since the CEO of a company without an ICC can go to jail for the said failure. Motwane said this would never happen again on his watch, Kashyap said he "was ill-advised, am deeply, truly sorry". It does seem though – and I could be wrong – that they simply realised Time's Up, and they will have to answer for ignoring an employee's complaints for years till she finally quit.
I'm assuming Kiran Nagarkar would have written a better-worded apology than all his other compatriot sexual harassers for what seems were repeated instances of sexual advances by him against young reporters who went to interview him. However, he seems to have suddenly lost his propensity for writing.