Catalan referendum: Pro-Russian networks see 2,000% increase in activity in favor of Catalan referendum | In English | EL PAÍS
Pro-Russian networks see 2,000% increase in activity in favor of Catalan referendum
Right-wing, pro-Trump media in the US join Russian-funded outlets in effort to portray the EU as divided
The Russian meddling machine has intensified its efforts on social media to deepen divisiveness in the final hours before the Catalan independence referendum of Sunday. Pro-Kremlin Twitter accounts increased their mentions of the Catalan crisis by 2,000%, according to social conversation analysis tools. The attempt to hold an independence referendum has gotten star treatment not only in channels directly funded by the Russian government, but also from accounts that trade in conspiracy theories and helped Donald Trump become the US president.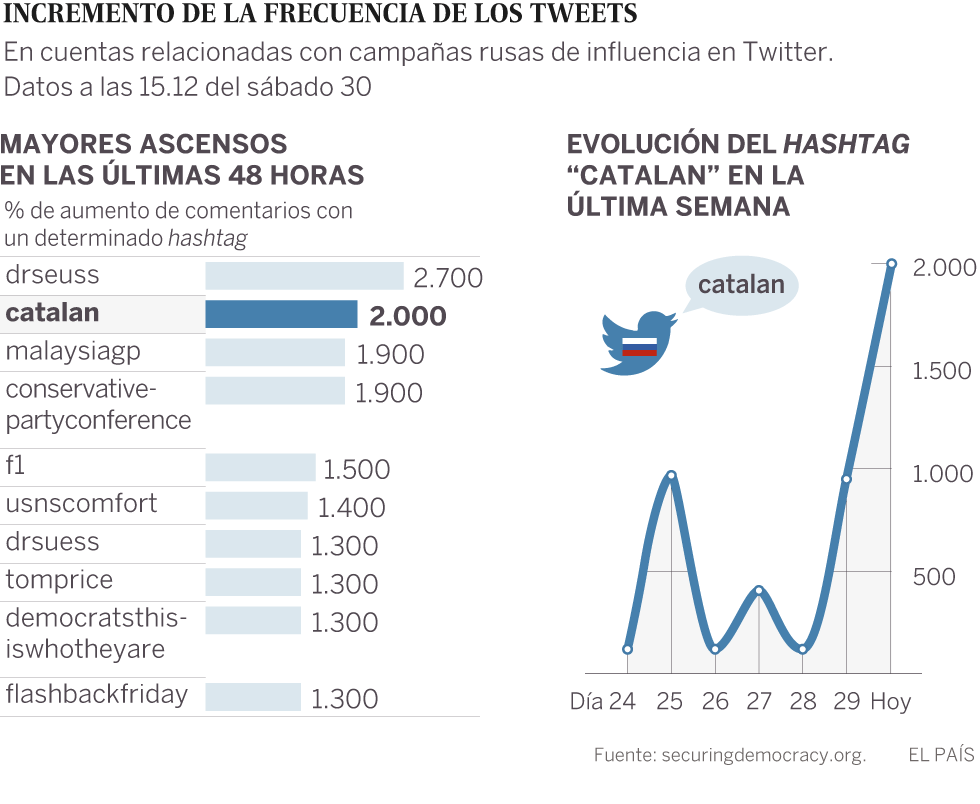 The great provocateurs in Trump's America have thus joined media outlets that are directly subsidized by the Russian government, such as Sputnik or RT. The latter has notably intensified its production of content about the Catalan crisis on its networks, both in English and Spanish, with headlines such as "Echoes of Franco in Spain's 'political repression' of Catalonia." On Friday, RT's Spanish edition published 11 articles on the subject. In the past, this outlet has been involved in other controversies, particularly over its role in promoting Trump during the US campaign.
RT maintains a close collaboration with Julian Assange, as the US report highlights. These ties have been evident in the case of Catalonia. According to the same report, RT's editor-in-chief met the Wikileaks founder at the Ecuadorian embassy in London in 2013. "Russian media subsequently announced that RT had become 'the only Russian media company' to partner with WikiLeaks," according to the report.
Ecuador, which hosts Assange at its embassy in London, believes that taking sides in the Spanish crisis violates the terms of his political asylum. Ecuadorian President Lenin Moreno revealed on CNN Wednesday that he has asked Assange, "in a cordial way, to stop commenting on the politics of Ecuador or its allies, because his condition does not allow it." Assange responded on Twitter on Thursday: "If President Moreno wants to gag my reporting of human rights abuses in Spain he should say so explicitly--together with the legal basis."