Catalan independence: How the independence referendum has split the Catalan police force | In English | EL PAÍS
How the independence referendum has split the Catalan police force
Recent operations have divided Mossos and called into question relations with other forces and judiciary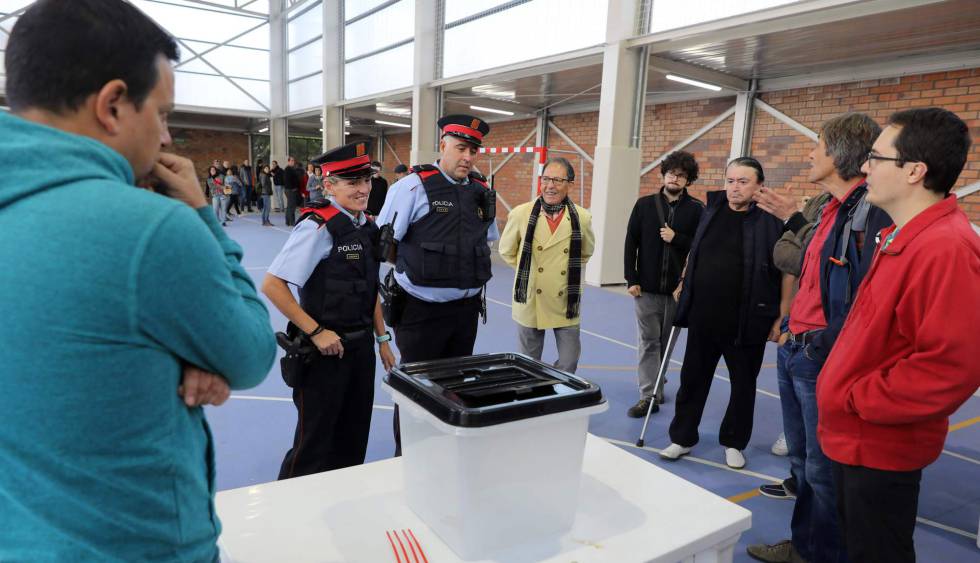 Two members of the Catalan regional police force at a polling station last Sunday.
CESAR MANSO
AFP
The Catalan regional police, the Mossos d'Esquadra, are a force divided after events in recent weeks that culminated in their role in Sunday's illegal independence referendum in Catalonia, where they have been accused of failing to carry out their orders and prevent people casting their ballots in a vote declared illegal by Madrid and banned by Spain's Constitutional Court.
The division is so deep that unions for the regional force have avoided making statements on the subject of Trapero, knowing that, whatever they do, half of their members will either be offended or could even walk off the job.
Other officers with the Catalan force did not even enter the polling stations on October 1. "I suppose no one here is responsible, right?" one officer can be heard asking in a video. Everyone there said "no" and the officer simply moved on, saying it was "impossible to enter." Onlookers applauded as the police officer smiled.
"Those images are crushing us," one high-ranking officer says.
"It is going to take a lot of effort to heal the wounds," says one officer with the Catalan force, referring to images of regional police confronting members of the other forces, or the limited protection provided by the Mossos to National Police and Civil Guard officers being harassed by members of the public.
Then there is another, perhaps even more damaging, split: that with the judiciary. The Catalan regional police force numbers almost 17,000 officers and it has worked extremely hard to win the support of judges. Trapero, a career investigator, headed up that effort.
"It will be very difficult for me to regain my trust in them," says one judge who has spent 10 years building up a relationship with the force. Until the referendum he had nothing but praise for the Mossos, despite initial misgivings. "That is why I am saddened and concerned that they have now decided to follow the orders of their political bosses. It appears that they have forgotten from one day to the next that they are judicial police. They have a duty to the judges and the Constitution," the judge says.
It is a question being asked elsewhere. "One police official told me the other day that the actions of the Mossos had been disloyal on three fronts," one prosecutor explains. "They did not take preventive action to stop ballot boxes being put in place and they did not close the polling stations to stop the vote. Nor did they protect the National Police and the Civil Guard when people attacked them for doing the work they hadn't done."