UK minister: Russia cyberattacks actions of a 'pariah state' | The Indian Express
UK minister: Russia cyberattacks actions of a 'pariah state'
Britain's National Cyber Security Center says four new attacks are associated with the GRU as well as earlier cyberattacks.
By:
AP
| Brussels |
Published: October 4, 2018 2:48:59 pm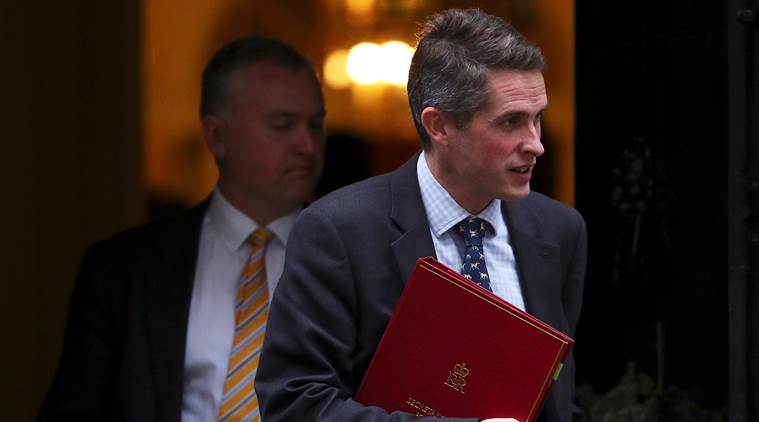 Britain's Secretary of State for Defence Gavin Williamson leaves 10 Downing Street, London, December 5, 2017. REUTERS/Hannah McKay
British Defence Secretary Gavin Williamson on Thursday branded a series of global cyber attacks blamed on Russia as the reckless actions of a "pariah state" and said that the UK and its NATO allies would uncover such activities in the future.
"Where Russia acts in an indiscriminate and reckless way, where they have done in terms of these cyber attacks, we will be exposing them," Williamson told reporters in Brussels at talks with US Defence Secretary Jim Mattis and their NATO counterparts.
His remarks came after British and Australian officials said the Russian military intelligence unit GRU is behind a wave of global cyber attacks.
Britain's National Cyber Security Center says four new attacks are associated with the GRU as well as earlier cyber attacks.
It cites attacks on the World Anti-Doping agency, Ukrainian transport systems, the 2016 US presidential race and others as very likely the work of the GRU.
British officials have blamed the GRU for the March nerve agent attack on Russian ex-spy Sergei Skripal and his daughter Yulia in the English city of Salisbury. Russia denies any involvement.
The revelation comes as the US, Britain, Denmark and the Netherlands were due Thursday to offer their offensive cyber-capabilities to the NATO military alliance for use in combating such attacks.
"We are not going to be backward leaning. We are going to actually make it clear that where Russia acts, we are going to be exposing that action," Williamson said.
"This is not the actions of a great power. This is the actions of a pariah state, and we will continue working with allies to isolate them; make them understand they cannot continue to conduct themselves in such a way," he said.
Earlier, Australian Prime Minister Scott Morrison and Foreign Minister Marise Payne issued a joint statement that Australian intelligence agencies agreed that GRU "is responsible for this pattern of malicious cyber activity."
They said Australia wasn't significantly impacted, but the cyber attacks caused economic damage and disrupted civilian infrastructure in other places.
MORE VIDEOS