Giant shopping spree to show what's really up with China economy | World News, The Indian Express
By

Bloomberg

|
Published: February 2, 2019 10:14:32 am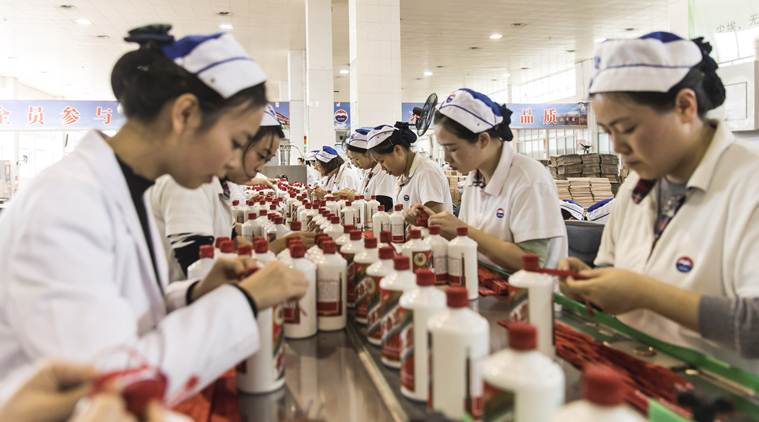 China's consumers have cut back on purchases of everything from
Apple
Inc.'s iPhones to Swiss watches as the trade war with the U.S. hits the economy. Landing just days after hundreds of local companies issued profit warnings and multinationals sounded the alarm about softening demand, the week-long Lunar New Year holiday will provide the next litmus test of the resilience of the Chinese shopper.
Starting February 4, the seven-day period sees hundreds of millions of people travel within the country to see relatives, fly overseas to take vacations – and open their wallets to buy gifts. In 2018, Chinese spent 926 billion yuan ($137 billion) at restaurants and stores ringing in the Year of the Dog.
This year's celebration is the first to take place during a trade war with the U.S., and as China's 1.4 billion people prepare to welcome the Year of the Pig, the data don't bode well. The trade fight has dragged on China's stock and property markets, and gross domestic product in the final quarter of 2018 rose at the slowest pace since the global financial crisis.
Companies selling to middle-class consumers will be the most vulnerable this holiday as wealthier Chinese continue shopping but the more budget-conscious cut back, said Adam Xu, a partner in Shanghai with consulting firm OC&C, who advises retail and consumer companies on their China strategy. "The slowdown in growth is happening and most likely in the mass part of the market," Xu said.
With Chinese consumers in the global spotlight, here's the outlook for some industries that count on them spending to ring in the New Year holiday.
Buying Bling
Demand for jewelry has traditionally climbed during the holiday because gold is seen an auspicious gift from older generations to younger ones. These days, it's not just the weak economy that has the bling industry feeling the holiday blues. Nikos Kavalis, London-based director of research firm Metals Focus Ltd., said buying "will not be what it used to be 10 years ago because a lot more Chinese consumers nowadays choose to travel abroad rather than go to their hometown."