Palestinian envoy says US peace plan is 'dead upon arrival' | The Indian Express
Palestinian envoy says US peace plan is 'dead upon arrival'
"It seems to me that people in Washington DC they still think that 'we are the only game in town. It's us or nothing'," Mansour said. "We are not a player to accommodate their desires." Palestinian UN ambassador Riyad Mansour said.
By:
AP
| United Nations |
Published: July 25, 2018 9:31:18 am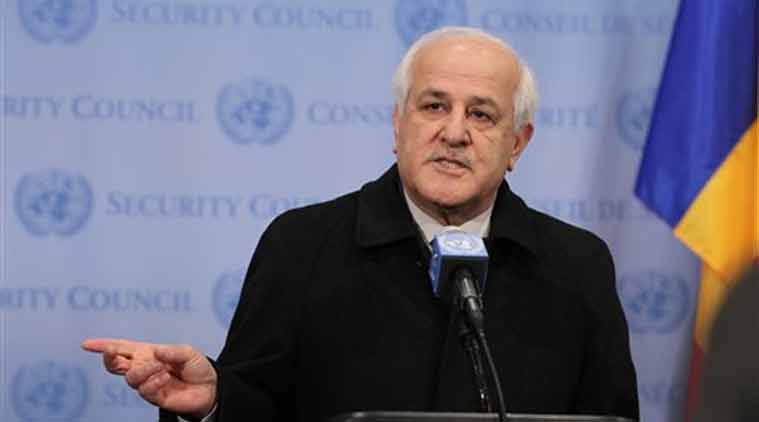 Palestinian Ambassador Riyad Mansour (Source: AP/File)
The Trump administration's long-awaited plan for Israeli-Palestinian peace is "dead upon arrival", the Palestinian UN ambassador Riyad Mansour said Tuesday.
Mansour told reporters that after President Donald Trump recognized Jerusalem as the capital of Israel on December 6, the United States "lost the qualification to be the only party to supervise the political process".
Trump's son-in-law and senior adviser Jared Kushner and Mideast envoy Jason Greenblatt, who have been drafting the administration's plan, told the Arabic language Al-Quds newspaper last month that they will present it soon, with or without input from Palestinian President Mahmoud Abbas.
Mansour said the US is "eager" for Palestinian engagement on the plan but "we are not going to engage".
Palestinian President Mahmoud Abbas and many other Palestinian officials "have indicated we will not engage in something that was dead upon arrival before even we received it", he said.
"It seems to me that people in Washington DC they still think that 'we are the only game in town. It's us or nothing'," Mansour said. "We are not a player to accommodate their desires."
Mansour said the Palestinians will insist on "a collective process" involving many countries to try to end the decades-old Israeli-Palestinian conflict, as Abbas proposed in an address to the Security Council in February.
Within a collective approach, he said, the United States can "play a role, but they cannot be the only one to supervise this process" following the "illegal and provocative" recognition of Jerusalem as Israel's capital.
The Palestinians want East Jerusalem as the capital of their independent state and say its status is a final issue yet to be decided, a view backed by the vast majority of UN member states.
Mansour also said the Palestinians don't want to go to negotiations where the US says Jerusalem, refugees, and a two-state solution "are off the table" and "settlements are maybe not on the table, maybe under the table".
"If you come up with this attitude, you are not opening doors to peace, you are opening doors for the opposite perpetuation of this conflict," he said. Mansour said possibilities for collective action include: an international conference, as China's UN Ambassador Ma Zhaoxu called for Tuesday, possibly in Russia as has been suggested;
Invigorating the role of the Quartet of Mideast mediators the US, UN, Russia and the European Union and possibly adding other delegations like China and Japan.
The 15-member Security Council or its five permanent members the U.S., Russia, China, Britain and France — leading the effort.
"We are open for all these things," Mansour said.
He accused the Trump administration of being pro-Israel, saying US Ambassador Nikki Haley "is becoming more Israeli than the Israelis themselves".
Mansour cited several examples including drastic US cuts in funding for the U.N. agency for Palestinian refugees known as UNRWA. This year, the United States cut some $300 million to UNRWA, leaving the agency in dire financial straits, and is now reviewing some $200 million in assistance for the Palestinians.
"There is an effort by the international community not to abandon UNRWA, and the action of the U.S. administration is about destroying UNRWA," Mansour said.
Haley made no mention of the cuts in her speech to the Security Council Tuesday but accused Arab and Islamic nations of being generous with their words in support of the Palestinians but not opening their wallets.
She said no Arab country comes "anywhere close to what the United States has done" — over $6 billion in bilateral assistance to Palestinians since 1993.
Saudi Arabia's UN Ambassador Abdallah Al-Mouallimi had a sharp reply, without mentioning the United States, a close ally.
He told the council his government has given "more than $6 billion, with a B, to the Palestinian people over the last two decades in the form of humanitarian development" assistance.
"Saudi Arabia strongly believes in actions, not words," Al-Mouallimi said.
Mansour cited Haley's accusations against Arab and Islamic countries, including some important US allies, saying this was "for the sake of promoting an unconditional defense of Israel" but "not in the interest of the United States, much more in the interest of Israel".
He also cited a failed US and Israeli effort Tuesday to amend a resolution on "the social and economic consequences of the Israeli occupation" to call for Hamas, which rules Gaza, to release two Israeli civilians and the bodies of two Israeli soldiers.