Fifth Column: Taliban Khan or Imran Khan? | The Indian Express
Fifth Column: Taliban Khan or Imran Khan?
Narendra Modi's hand of friendship has been as firmly slapped away by the military men next door as Atal Bihari Vajpayee's was when he famously travelled across the Wagah border in that gilded bus in the winter of 1999.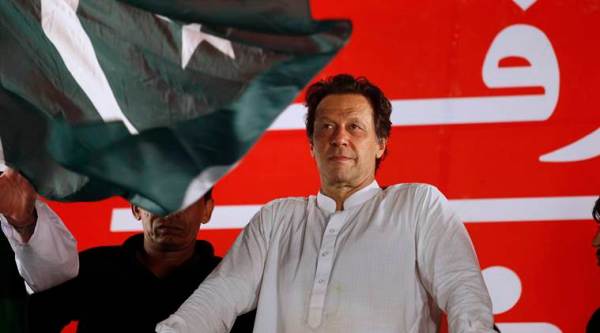 Pakistani politician Imran Khan, chief of Pakistan Tehreek-e-Insaf party, at an election campaign rally in Islamabad, Pakistan, Saturday, July 21, 2018. The PTI emerged as the single largest party, winning 116, in the Pakistan general elections. (AP Photo/File)
This realisation dawned only when M J Akbar asked me to interview him for The Sunday magazine during the Pakistani cricket team's first tour of India in an aeon in 1978. The issue with Imran's picture on the cover sold out so quickly that Akbar asked me to follow the tour despite my protests that I had not a clue about the game. He said he wanted me to write about what went on off the field. A great deal did. It seemed to me after following the tour to Bangalore and Bombay (not Mumbai then) that every Indian woman was in love with Imran, from Bollywood stars and beauty queens to happily married women. He loved it.
This was before he became so Islamic that his latest wife does not allow even her eyes to show through her heavy veils. Pinky Peerni as she was known before she became Mrs Imran Khan apparently saw in a dream that he would only become prime minister if he married her. So as his 'spiritual advisor' (and for Pakistan?) she abandoned her first husband and children to become his wife. Under her guidance he appears to have become increasingly Islamic and is rarely seen without prayer beads and often seen paying obeisance at religious shrines. In militant Islamist tones he speaks against America, feminism, westernisation and the global war on terrorism. He sounds so jihadist in the process that he is called Taliban Khan. So as prime minister will he be good for India?
There has been much conjecture about this in the Indian media as if we do not know that foreign and defence policy is in the hands of Pakistan's military men and never in the hands of elected prime ministers. Imran knows this too. So although he was aggressively vociferous during the campaign in his attacks on 'corrupt' civilian leaders, he uttered not one single sentence against the corruption of Pakistan's generals. Nor has he questioned the ugly methods they used to fix the election so that he should fight against nobody who could dream of defeating him. So from an Indian point of vantage we can only hope that some day soon he shows the courage that Nawaz Sharif did when he came to Narendra Modi's inaugural ceremony despite the disapproval of the Generals.
Sharif's disobedience and his decision to try Pervez Musharraf for treason probably cost him his job, but he showed real courage by defying the military. The Imran Khan I know is unlikely to be as malleable as the Generals who helped him win clearly think he is, but it is hard for me to be sure. I knew him in a time before Allah got to him.
Follow Tavleen Singh on Twitter @tavleen_singh