Barcelona attacks: Islamic leader in Spain: "The state does not tell us if an imam has a criminal record" | In English | EL PAÍS
Islamic leader in Spain: "The state does not tell us if an imam has a criminal record"
Riay Tatary, president of the Islamic Commission, denies a lack of oversight at the country's mosques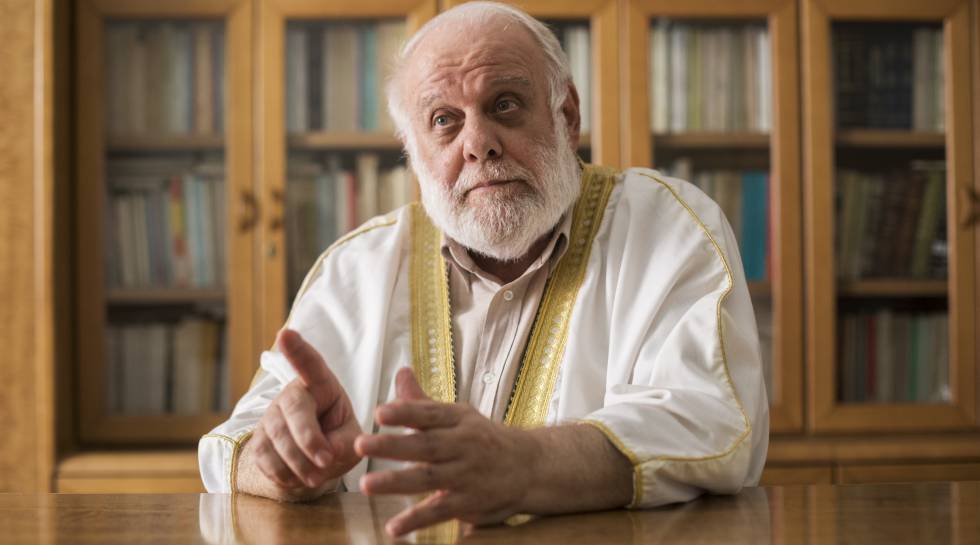 Riay Tatary during the interview.
CARLOS ROSILLO
For over a year, Riay Tatary, 69, has been presiding the Islamic Commission of Spain (CIE), the body that acts as a liaison between Muslim religious communities and Spanish government agencies. The Damascus-born leader had previously served for nearly a quarter century as one of the CIE's two secretary generals.
Following the recent Islamist
attacks in Barcelona and Cambrils
, and revelations that the ringleader of the terrorist cell
was an imam
from the Catalan town of Ripoll, EL PAÍS interviewed Tatary to find out more about how Islam is taught and preached in Spain.
Question. Within the Muslim community, there are voices raising the alert about a lack of oversight and training at the mosques.
Answer. There is no lack of oversight. The attacks in Catalonia are an isolated incident. It would be a mistake to generalize. For instance, for the last year and a half we have been drawing up a census to know how many imams there are in Spain; we don't know because there are cases where they get hired as teachers or educators, even if they also work as imams. Drafting this census is not an idea that cropped up as a response to the attacks.
Q. Are you in favor of controlling imams' sermons before these are delivered?
A. I find that exaggerated. It is unpractical. It is more typical of dictatorial governments.
We are one of the most socially integrated communities in Europe. We can say that there are no ghettos here
Q. How is it possible that the imam from Ripoll was working as such if he had a criminal record?
A. We don't have access to that type of information. We ask the State to warn the Islamic Commission when it has that kind of information. We already request that candidates hoping to be Islamic religion teachers provide a document issued by the Justice Ministry certifying that they have no record of sexual abuse.
A.
Spain is our country and we defend it like no one else. We are one of the most socially integrated communities in Europe. We can say that
there are no ghettos here
. And Muslims are the first people to want it that way. We already have the experience of France to look back on! The trouble is that the accords signed with the Spanish state in 1992 are not being fully honored. We have nearly 300,000 students in schools across Spain, but they only have 55 teachers of Islamic religion. And we're just talking about elementary school. In Catalonia, the Valencia region and Murcia there isn't a single teacher. Yet teaching the values of Islam would be very positive for all of society, not just for Muslims. We're not asking for any special privileges.
MOROCCO ASKS FOR MORE CONTROL
EFE
Morocco's Interior Minister Abdeluafi Laftit has told his Spanish counterpart, Juan Ignacio Zoido, to pay "special attention" to Spain's mosques and imams because they have a direct influence on second-generation migrants.
Both ministers met in Rabat on Tuesday and underscored the "excellent cooperation" of police services in both countries.
"The children of Moroccan immigrants, born in European countries, require special attention to prevent them from falling into the jaws of terrorism," said Laftit at a press conference, explaining that he was thinking "specifically about uncontrolled mosques and some extremist imams."
A. That is precisely why education is necessary. And it should be offered in a supervised way.
Q. The Spanish state is non-denominational. Don't you think that in education, religion should be left to one side?
A. We are not talking about teaching religious doctrine, but about learning values and behavioral models. Islam is learned. We have published several handbooks unifying criteria and explaining the essence of the Muslim religion.
Q. What are your conclusions from the march in Barcelona last Saturday?
A. We did not like the way it was politicized. It made people stay home.
A. Yes, especially after the attacks in Nice, Paris and Brussels in 2015 and 2016. It is mostly manifested through graffiti on mosques. After the attacks in Catalonia, there were incidents in Granada, Seville, Alicante, Navarre, Catalonia and Madrid. Besides insults, there's also been some some incidents of aggression.
Q. Leaders of Islamic communities in France and Britain refused to bury the perpetrators of some of the attacks through the Muslim rite. Should the same happen in Spain?
A. I would leave that in the parents' hands. The best thing to do in these cases is to consult them.