Independence referendum in Catalonia: Catalan police warn about public order unrest on referendum day | In English | EL PAÍS
Catalan police warn about public order unrest on referendum day
Chief of regional Mossos force says officers will act with "proportionality" to avoid "undesired consequences"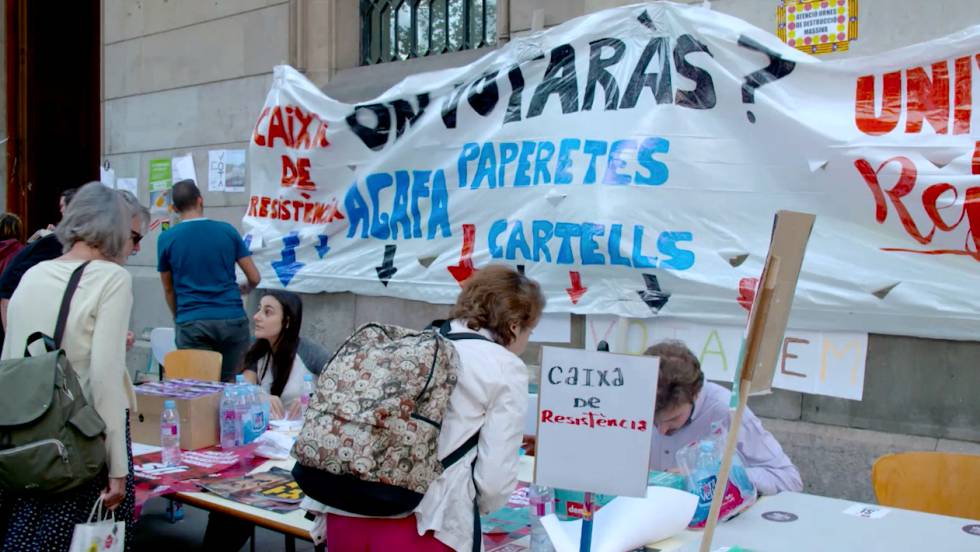 Referendum information stand at Barcelona University.
C. MARTÍNEZ / C. CÓRDOBA
After being told to seal off premises likely to be used as voting stations for Sunday's planned independence referendum, the Catalan police have warned state prosecutors that following these orders could pose public order problems.
Josep Lluís Trapero, head of the Mossos d'Esquadra force, said there could be problems ensuring "citizen safety" and talked about "a predictable risk of public order disturbances" on a day when Catalans have been asked by their regional government to vote in an illegal referendum that violates Spanish legislation, and which has been suspended by the courts.
He added that officers will act with "proportionality" to avoid "undesired consequences."
Some groups in the education community have already called for volunteers to keep these centers open on Sunday.
"Faced with the latest news and events, individuals with ties to the education community have come together to express our rejection to sealing off the schools, and are calling upon citizens to open up the schools, to open up to democracy," said Josep Maria Cervelló, spokesman for the Escoles Obertes project.
Cervelló underscored that they are supporting a "civic, orderly and peaceful mobilization" that excludes any kind of confrontation with law enforcement.
Meanwhile, students at Barcelona University have been working in shifts for several days now, manning street stands where they are handing out ballot papers and providing information about the planned October 1 poll. Volunteers say they have handed out hundreds of voting papers since Friday.
"Nobody has said anything to us, not the [National] police and not the Mossos," said an 18-year-old English Studies major as she used her cellphone to help a couple find their nearest voting station.
But regional government spokesman Jordi Turull this week admitted that voting guarantees have been "crushed" by these actions. The Civil Guard has arrested 14 people, seized voting material, and the electoral board in charge of the recount was recently dissolved after facing thousands of euros in fines. The Mossos have also been instructed to identify individuals in charge of schools and other centers that will house the ballot boxes, and to prevent street voting within a 100-meter radius.
Sedition
The prosecution claims that the ultimate goal of the protestors was to break up the organization of the Spanish state, and thus represents an attack against the form of government.
Political suicide
Despite their show of unity, several statements made this week by Catalan officials suggest that even if a referendum takes place on Sunday, it will not necessarily lead to an immediate and unilateral declaration of independence, as leaders had earlier been proposing.
"Puigdemont has decided to commit suicide," said Mariano Gomà, president of Societat Civil Catalana, Catalonia's main civic association that opposes independence. "We have no doubt that the referendum will not be held because it violates all laws. There might be a mobilization or a mock vote, but it will have no meaning and no institutional support."
But following rumors that Puigdemont himself could be accused of rebellion if he proclaims independence, the secretary general of the Spanish Socialists, Pedro Sánchez, called for political prudence.
"Let's remind the government of Spain that prudence is good for everyone, including for the Attorney General," said Sánchez at a speech inside the Senate.