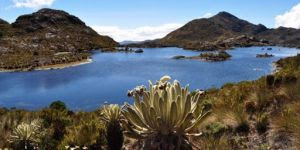 A mining company led by the
Prince of Abu Dhabi is pushing to extract gold from a pristine ecosystem in the heart of Colombia
. Locals are protesting to save their drinking water from this toxic operation -- and asking for global solidarity to stop the project.
Join the call to protect water over gold and share widely!
Dear friends,
People across Colombia are joining forces to defeat a mining company that wants to extract gold
in the most important water source of the country… and they need our support to win!
Behind the whole project is the
Prince of Abu Dhabi, who chairs the company, and is hoping to fill his country's banks with Colombian gold out of a precious ecosystem called Paramo Santurban
. The company has already been called out for their dirty tactics to discredit the citizens opposing this project for over 9 years, and
in a few days, Colombia's government will have to decide between protecting water or gold.
Let's join the call to protect life over mining by generating a wave of solidarity from across the globe. If we reach 1 million signatures,
we will cause a deafening splash in Abu Dhabi
calling on His Highness to drop the project:
SIGN THE PETITION
Since 2011, mining has been prohibited in these Paramos mountains. They're hilltop forests where natural freshwater is born, creating rivers that provide drinking water to thousands of communities.
Colombia holds 50% of the Paramos of the world, an emblematic ecosystem people are proud to protect.
But companies and politicians keep pulling strings to exploit these precious ecosystems. Last year, a leaked video showed the firm's CEO talking about a plan to get the environmental permit approved. He said
that the only perceptions that matter are those of regulators in Bogotá, 'not local communities',
and that it doesn't matter if thousands oppose his company's project as long as Bogotá is fine.
Let's support the national march happening next month in Bogotá -- and
show the Prince of Abu Dhabi that this scandalous project that will kill the drinking water of thousands has major global opposition.
Sign the petition now and we will make sure our call is heard across borders.
SIGN THE PETITION