Waste-to-Energy plants that use solid waste as feedstock pose threat to environment | The Indian Express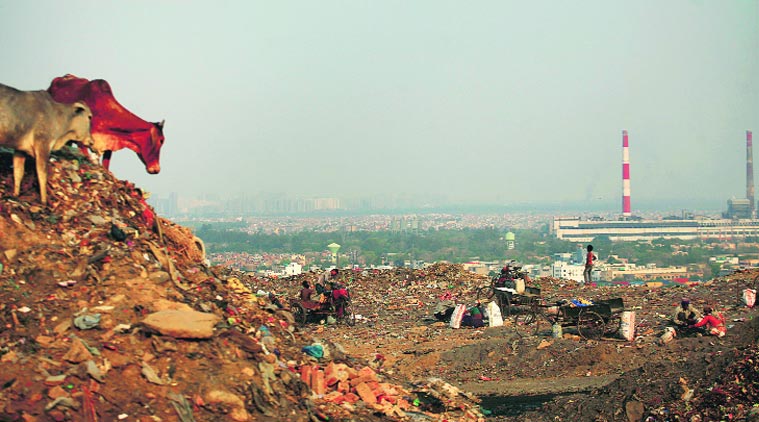 We wish we could scream loud enough for our readers and the municipal authorities to hear that Waste to Energy (WtE) plants in our cities, using inadequately segregated municipal waste as feedstock, are highly dangerous because of the toxic gases and particulates they spew when they burn mixed waste in the process of incineration.
Residents of Okhla and surrounding areas in Delhi have been protesting that the WtE plant in their vicinity is not complying with the stipulations of National Green Tribunal (NGT). Is it too much for an urban locality with houses, hospitals, schools and shops to want no industrial polluter in their midst? With its location within 30 metres of the residential areas, emissions remain a major issue with the residents. The plant was slapped a fine of Rs 25 lakh in February 2017 by the NGT but many questions about air quality standards in the area remain unanswered, including why the plant spews soot and ash in the neighbourhood.
To rub salt on the wound, we understand that the authorities are considering the expansion of this WtE plant from 16 MW to 40 MW. The latest protests by the residents at a public hearing were reported in the press only a few days ago. The residents claim that the plant's original Environmental Impact Assessment (EIA) — issued to IL&FS — bears no resemblance to the plant now in operation. A new EIA has been filed for the proposed expansion, and they are apprehensive about the proposal to add two boilers.
There are five municipal WtE plants operational in India with a total capacity to produce 66.4 MW electricity per day, of which the lion's share — 52 MW per day — is generated in Delhi by its three existing plants. There is also talk of setting up a new WtE plant with a capacity of 25 MW at Tehkhand in South-East Delhi. The bandwagon is rolling on with cities across different states vying for WtE plants as a quick and lazy solution to the complex challenge of solid waste management.
WtE plants in India burn mixed waste. The presence of chlorinated hydrocarbons like PVC results in the release of dioxins and furans when the waste is burnt at less than 850 degree C. Appropriate filtering mechanisms need to be installed to control such dangerous emissions. Dioxins and furans are known to be carcinogenic and can lead to impairment of immune, endocrine, nervous and reproductive systems. They are extremely difficult and costly to measure, as the experience of Okhla shows. In the past, joint inspections involving the residents have shown that the plant was being operated without the adequate use of activated charcoal to filter out dioxins, furans and mercury from the emissions.
Even when incineration takes place under optimal conditions, large amounts of flue gases, mercury vapour and lead compounds are released, and there is always about 30 per cent residue from incineration in the form of slag (bottom ash) and fly ash (particulate matter), which are also known to be serious pollutants of air and water. Even people living in the neighbourhood of the best-maintained plants in the West are said to be prone to higher levels of cancer and other illnesses. That is why WtE plants are being phased out in the West. Unfortunately, while the clamour for WtE plants is growing in India, their operations are neither strictly maintained nor adequately monitored.