Pakodas for the general | The Indian Express
Pakodas for the general
Vajpayeeji gave incredible freedom to those who worked with him.
Written by
B C Khanduri
|
Updated: September 4, 2018 4:52:32 am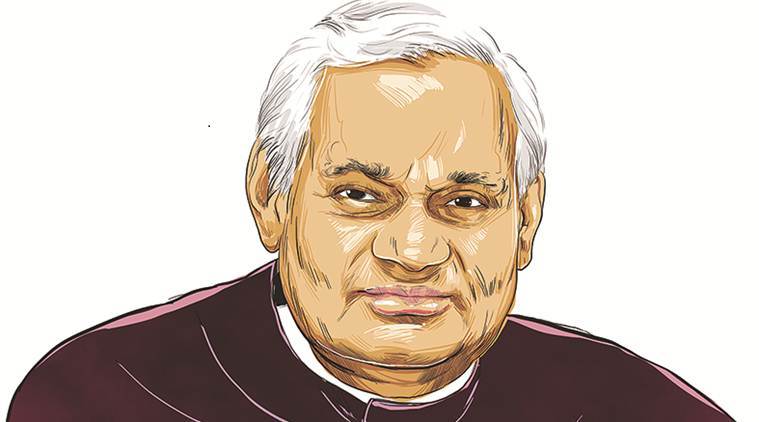 I first met
Atal Bihari Vajpayee
in 1990. I had finished a career in the Indian army and headed into the calm waters of a retired life. Traveling to visit my mother at our ancestral home in Pauri Garhwal, somehow I found myself on a detour alongside him in a battered old Ambassador car, travelling from Delhi to Saharanpur and later Dehradun. The six hours that I spent left indelible memories of the greatest man I knew, and changed the course of my life.
I was told later that he had specifically asked for me to be with him. However, at the time, the first thing that struck me on that journey was the sheer charm and warmth of the man. Later I realised how, through a series of questions and observations he got me, not known to be the most loquacious of individuals, talking almost uninterruptedly about myself. Somehow, inexplicably but perhaps inevitably, at the end of the short journey, I found myself being made a member of the BJP, and the purported candidate from the Pauri Lok Sabha constituency for the 1991 general elections.
As road transport and highways minister in his government, it was my responsibility to implement the national networks of roads, popularly known as the Golden Quadrilateral project. The challenges of execution that resulted from its staggering scope and transformational nature sometimes seemed dwarfed by the corresponding political pressures. But such was Atalji's greatness that never once in those years did he ever second guess a decision taken by the ministry, nor did he ever ask us to go down a path we felt was untenable. Early on in my tenure as minister, I went to him, power-point presentation in hand, to seek his feedback. This was after all, a project with a budget upwards of Rs 75,000 crore with multiple allocations across scores of projects. "General saab," he said, "Just carry on doing what you're doing." Two or three attempts later, I realised that he meant it. The incredible freedom he gave his ministers to function was a hallmark of his leadership style, a quality that made us want to work all the harder for him.
Under his leadership, the National Highways Development Programme (NHDP) was launched with three phases. The first phase was the 5,846-km long Golden Quadrilateral connecting four metros. The second was North South, East West corridor with a length of 7,300 km and the third phase was Pradhan Mantri Bharat Jodo Paryojana with a length of about 10,000 km providing connectivity to 16 state capitals to national highways (remaining state capitals were already connected). Work on all the three phases was launched during 2000 to 2004 and was substantially completed for phase 1 and phase 2. I cannot forget how, over these years, he would make it a point to accompany me on all the bhoomi poojans as well as the lokarpan of all major NH projects.
He was acutely aware — and would never hesitate to let me know — the painful inactivity in highway development in post-Independence India. From 1947 to 1997, a span of 50 years, only 556 km of NH was four-laned, at the rate of 11.12 km per year. He would often wryly comment on how travelling over broken roads under successive Congress regimes had soured his outlook while reinforcing his desire to make a difference. It was under his leadership that India moved from building highways at the rate of 11 km per year to 11 km per day.
It was with Atalji's active encouragement that we reached two landmark milestones in national highways. The first was the establishment of a Central Road Fund at the level of the Union government backed by an Act for construction and maintenance of highways by levying a nominal cess on petrol and diesel. The second was that, for the first time in India's history, a comprehensive guideline for private sector participation (with tax and fiscal incentives) in construction and maintenance of highways was formulated and implemented.
He was, for me, the epitome of the perfect leader. As an armed forces officer, I have had the fortune to have perhaps the three most sought after commands — leading a platoon, a regiment in combat and a brigade. But of all the leadership lessons I learned and of all the leaders I met, including another personal hero, one Lieutenant General Bhagat VC, PVSM (a story for another day), Vajpayeeji stood above and beyond. He never once demanded, he never once forced you to follow.
"To be a successful leader" Vajpayeeji once told me, "You have to have a big heart, and the capacity to forgive". As always, like the many things he said, I would only understand the depth of his insight over time. These words sound trite even as I write them, but I made an attempt to stand fast with him even in his twilight years.
Long after he had retired from active politics, I would make a point to visit him at his residence at least once a week. It was, in a very real sense, a lonely pilgrimage, a reaffirmation of my respect for the man, and my own way of keeping faith. It was deeply satisfying to see him every time, just as it was deeply painful to observe the approaching end.
Let me take his leave with a memory. Often, when I would meet him, he would ask his staff to serve us pakodas. "Get the General some pakodas," he would say. The general in question was never a fan of the aforementioned snack and would refrain from having any. But somehow, the pakodas would vanish, and soon enough, a few minutes later, he would roar for another serving because "the General hasn't had enough of the pakodas". And this would go on a fair few times, until he satisfied his urge for his favourite snack. And I would walk away every time, curiously happy, curiously enhanced just for having been in his presence.
He was the greatest man I knew. We will not see his like again.
The writer was Cabinet Minister, Ministry of Surface Transport in the NDA government and twice chief minister of Uttarakhand. As told to Manish Khanduri