Gained in translation: In search of Karuna | The Indian Express
Gained in translation: In search of Karuna
Excerpts from Kondapalli Koteswaramma's speech on her birth centenary celebrations at Visakhapatnam on August 5.
Updated: September 30, 2018 10:43:20 am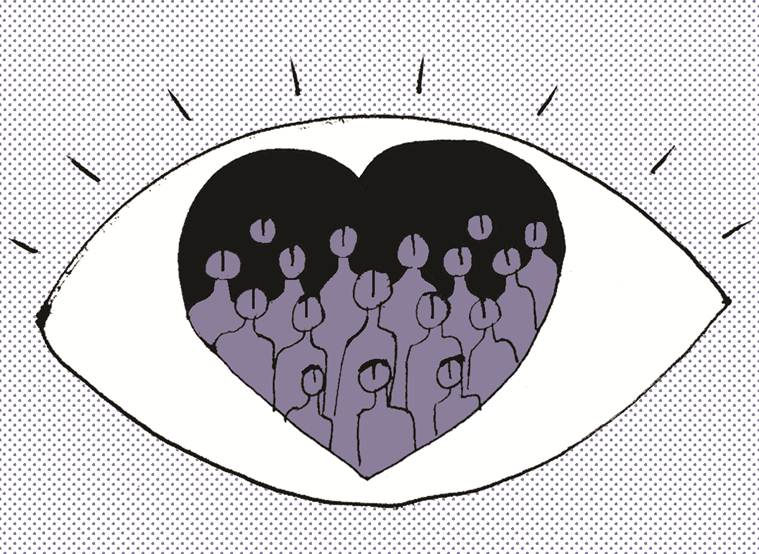 Illustration: C R Sasikumar
Written by: Kondapalli Koteswaramma
Translated from Telugu by Gita Ramaswamy
Namaskaramu to all of you here. I have lost everyone — children, husband, property, everything — but when I see so many of you good people here, loving me, I feel I am a good woman.
There is a reason for my surviving so long. When my children died and I was weeping, Neelam Rajasekhar Reddy came to me and said, "Amma, don't weep, Karuna (my daughter) is not dead. Karuna is alive. Karuna is there in your eyes. Karuna came to me and said, 'Brother, console her'. That is why I have come to console you. It is Karuna who will help you grow (sustain)." Karuna has not died, he said. This Karuna should live. There is Karuna in our tears. There is Karuna in my tears and in yours. You should live to keep that Karuna alive, he said.
Where is that Karuna? In the world where there is no hierarchy, where there is no heroism, where there is no subordination or hegemony — whether in parties or among individuals — where there is no upper caste or lower caste, Karuna is there in that socialist society. What should we do to construct that socialist society? We should work for this. It was this thinking, this inspiration that kept me alive for so many years.
Later, Chandra Rajeswara Rao said, "Amma, write." I began writing my thoughts. As I wrote, I lived my life without asking anyone anything. So Rajeswara Rao said, "Words are your food. You should live like a Communist."
When the Communist party split, I felt very sad and wept: Ayyo, such good people, they have split. What will happen now? From two parties, the split has grown to 10 parties. Who will construct a socialist society? There are people who also heckle us if one is friendly with any one group and call us names like opportunist.
The people who struggled then are also there now, watching. The country has changed, it is no longer what it was in those days. Anarchy has grown, young girls are not safe… the Communists beat up rowdies earlier and ensured that they fled. When I recall the great people who worked earlier, I wonder and agonise who will work for the country. But I am an optimist. I am confident that such people will again come up from the youth. That goodness will return… It is with this optimism — the inspiration that was given to me by great people like (Puchalapalli) Sundaraiah, Rajeswara Rao, Rajasekhar Reddy and the love given to me by people — that I survived all these years.
Rajasekhar Reddy told me to sustain that Karuna. I could not do that. I should do it at least in words, so I wrote my memoirs. I wrote Amma Cheppina Kathalu (The Stories Amma Narrated) to show how children should be raised. Shivasagar (K G Satyamurthy) came to me and said, "I will wipe your tears with mine." Isn't all of life sorrow? We cannot wipe away all our tears, this is the story of women through so many generations… The people who published my writings saw mercy and compassion in them. Otherwise they would not have published them. I have not published even one of my writings, others have taken it up…
When I observe all this, I know for certain that Karuna is still alive. We should make this Karuna big, we should sustain her. My Karuna died, but Karuna is still alive in the country and among people. It is when a socialist society is built that Karuna will stand tall. I have hope that this will take place.
Sometimes, I lose hope — what is happening? Because I am an optimist, I tell myself, don't lose hope, the goal may be far away, but youth will come to bridge that distance. I have hope that youth will come — to build a socialist society, sustain Karuna. I died a long time ago. I was reborn when I got these thoughts, that day was my birthday. I lived with this hope all these days. Sundaraiah told me, "Don't harm the country, do only good." You should not die, he said. I carried this out through my writing.
Nothing remained for me in life, only the name Kondapalli. This is because my son (Chandu) told me that you should remain Kondapalli Koteswaramma, you should be Kondapalli Chandu's mother. He died for the country. I survived as Chandu's mother. I don't tell you to sacrifice your lives as Chandu did, but I ask you to think of the socialist reconstruction, concern yourselves with the prevailing anarchy, nobody should think in terms of hegemony or subordination, this party or that. I assure you that day will come.
Excerpts from Koteswaramma's speech on her birth centenary celebrations at Visakhapatnam on August 5. Wife of Kondapalli Sitaramayya, founder of People's War Group, Koteswaramma participated in the Telangana Movement as a member of the undivided CPI and later was associated with various reform and feminist movements in Andhra Pradesh. Her autobiography, Nirjana Vaaradhi (The Sharp Knife of Memory), written at the age of 92, has been translated into various languages. She died on September 19 at the age of 100.
Translated from Telugu by Gita Ramaswamy