Vladimir Putin made 'incredible offer' in Russian hacking case: Donald Trump | The Indian Express
Vladimir Putin made 'incredible offer' in Russian hacking case: Donald Trump
Donald Trump did not elaborate on Putin's "incredible offer," though Putin himself suggested that special counsel Robert Mueller could ask Russian law enforcement agencies to interrogate the suspects.
By:
AP
| Washington |
Updated: July 17, 2018 10:40:24 am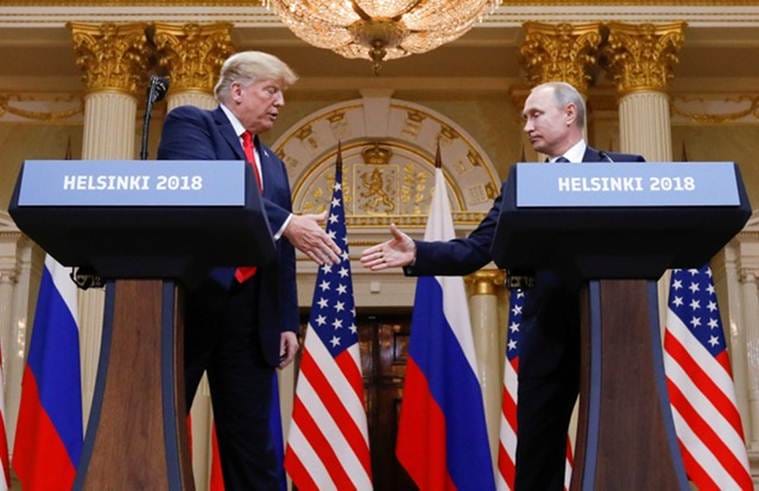 US President Donald Trump and Russia's President Vladimir Putin shake hands during a joint news conference after their meeting in Helsinki, Finland. (REUTERS photo)
President Donald Trump has said that Russian President Vladimir Putin privately made an "incredible offer" to help American investigators in their prosecution of 12 Russian intelligence officers accused of hacking crimes during the 2016 presidential election season.
"He offered to have the people working on the case come and work with their investigators with respect to the 12 people," Trump told reporters during a news conference in Helsinki following his joint summit with Putin.
"I think that's an incredible offer, OK?" The special counsel investigating potential coordination between the Trump campaign and the Kremlin charged a dozen Russian military intelligence officers on Friday with hacking the Democratic National Committee and the Hillary Clinton campaign and then releasing the stolen communications online as part of a sweeping conspiracy to meddle in the election.
Trump did not elaborate on Putin's "incredible offer," though Putin himself suggested that special counsel Robert Mueller could ask Russian law enforcement agencies to interrogate the suspects. He said US officials could request to be present at such questioning in line with a 1999 agreement on mutual legal assistance in criminal cases.
He noted that Russia would expect the US to return the favor and cooperate in the Russian probe against Bill Browder, a British investor charged with financial crimes in Russia. Browder was a driving force behind a US law targeting Russian officials over human rights abuses.
It seemed unlikely that American authorities would take seriously any such offer from Putin, and some U.S. lawmakers openly ridiculed the suggestion.
The United States does not have an extradition treaty with Russia, making it highly doubtful the Kremlin would ever voluntarily send over the defendants to be prosecuted in an American court. And the detailed allegations in the indictment make clear that the FBI and Mueller's team believe they were able to pinpoint the hackers by name and establish how the cyberattacks unfolded.
Putin has long insisted that the Kremlin had nothing to do with the hacking, denials that Trump said the Russian leader repeated during their private meeting Monday.
US intelligence officials have said the Kremlin was behind the effort to help Trump defeat Clinton, and Mueller tied the hack to the Russian government by identifying the culprits as officers in a Russian military intelligence agency known as the GRU.
Trump has been reluctant to blame Russia for the hacks and again Monday refused to embrace the intelligence community assessment.
"So I have great confidence in my intelligence people, but I will tell you that President Putin was extremely strong and powerful in his denial today," Trump said.
Spokespeople for the Justice Department and Mueller declined to comment on Trump's comments or on Putin's purported offers for assistance.
Despite Trump's assertion that Putin has offered a hand, Mueller's office has suggested that the Kremlin has been less than forthcoming in another criminal case brought against Russian individuals.
Prosecutors in February charged 13 Russians with participating in a social media effort to sway public opinion, and divide voters on hot-button issues, during the election by concocting bogus
Facebook
ads in the names of Americans.
Mueller's office has tried to serve summonses on the defendants demanding that they appear in court, but prosecutors say the Office of the Prosecutor General of Russia declined to accept the summonses.
The US government also sought Russian government help through a mutual legal assistance treaty, but according to a court filing this month, "no further steps have been taken within Russia to effectuate service."