Telescope: Telling a soggy tale | The Indian Express
Telescope: Telling a soggy tale
From the dramatic rescue in Tham Luang to the unrelenting monsoon in Mumbai.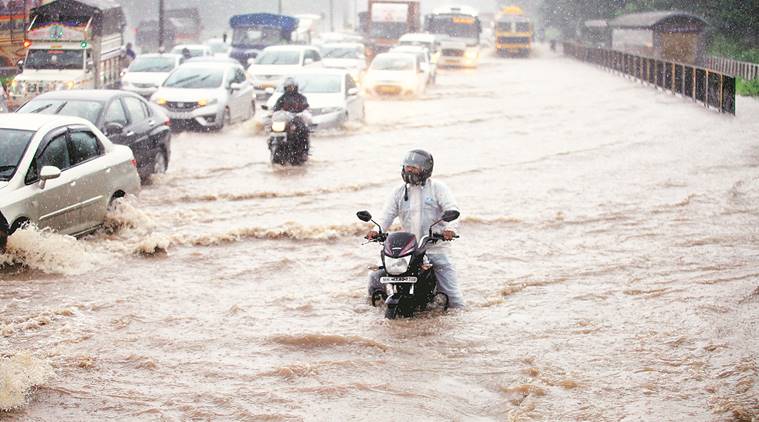 A waterlogged road in Mumbai on Tuesday. (Express Photo by Narendra Vaskar)
There was just so much water you wanted that face mask worn by the boys in Tham Luang or the life-saving jackets on reporters floating around Mumbai. Deep down those cavernous caves of Thailand, waist-high water ebbed and flowed as the divers inched forward to rescue the Wild Boars, one by one. Far away on the western coast of India, 90 per cent of the rain that normally falls during July, has already drenched maximum city, so NDTV 24×7 claimed. Maharashtra was bloated with torrential rainfall that had nowhere to go but to flood the fields, the cities, the highways (ABP, Zee News).
Up in the hills of Mussoorie, a family was nearly washed away by the monsoon showers while in Ramnagar, schoolchildren trod warily and dangerously on water to reach their school (Samachar Uttarakhand). Down in the soggy South, Chennai was waterlogged and temperatures were rising — especially amongst irate commuters (India Today).
"Water, water everywhere", as Samuel Coleridge, unforgettably wrote.
The only way we will probably ever see and know what transpired inside the Tham Luang caves for 18 days, is when and if a film is made on the extraordinary real life story of underwater heroics. We saw very little of the human drama lived out by the soccer team, its coach and the hundreds of divers who saved them: Grainy footage of the boys, wrapped in plastic, wreathed (occasionally) in smiles — and was that a namaste a few of them fetched us? — was the closest we came to their predicament. On Tuesday, Zee News showed more video grabs of the perilous rescue operation from American entrepreneur Elon Musk: It looked very dark, dank and dangerous in there.
This was a heart-stopping tale without a ringside view; the media was moved away from the actual location. All we saw was a serene mountainside. Reporters gave us the developments as they emerged, along with the rescued boys. They didn't always agree: CNN said the strongest boys were coming out first in order to test the waters, literally. BBC said the opposite (Sunday).
From the round table discussions — one, oddly, on the lawns outside Parliament in London — and TV studio chit chats with divers, past and present, to the correspondents on the spot at Tham Luang, there was nothing but awe and awesome praise for the heroic mission impossible: "So remarkable, so unbelievable" (BBC). The best comments? "Can these cave rescuers run the world?", pleaded a lady on CNN.
The Indian news channels, besides WION, were equally impressed but preoccupied as they were with the fate of "Indian democracy" (Times Now) — or just Mumbai — they left the biggest global story to the ABC of international news: Al Jazeera, BBC and CNN. Don't get them? Well, then, make do with the tidbits they offered.
In Mumbai, reporters were not taking chances; most took to umbrellas, instead, for shelter from the storm (NDTV India, India News). Some, ahem, felt the need for life jackets (India TV). Times Now, News X and Mirror Now launched campaigns against the administration's apathy and all but climbed down manholes to alert Mumbaikars.
Waves of another kind also assaulted the senses. Spent Monday evening at the debates: On Times Now's India Upfront, they were cross-yelling about the All India Muslim Personal Law Board's "ShariaShocker" to have a Sharia court in each district; on Republic, they screamed "#DeathforRapists" in the December 2012 Delhi case, so too on Mirror Now; potholes saw everyone's manners go down the drain on News X. Finally, one participant had had it: "Please allow a lady to speak…", she begged. So too a gentleman on Times Now: "Let me complete, let me complete, let me complete." (10 times).
Meanwhile, on Krishna Chali London (Star Plus), Krishna, who ended up in Kanpur, instead, after marrying Radhey, is yelled at by her father-in-law; on Yeh Un Dinon Ki Baat (
Sony
), four women are at each others' throats.
Remember, Little Red Riding Hood? "But Grandmother! What big ears you have," said Little Red Riding Hood. "The better to hear you with, my dear," replied the wolf.'
Indians have ears of varying sizes but they don't use them to hear what others have to say.
The mysterious deaths of a family in Burari still fascinate channels: One neighbour of the deceased Bhatias claimed someone heard something at 5 am (India Today); ABP spent the night there and saw a man touch the ground, superstitiously, before he ventured forth; kids who knew the Bhatia kids say they were "normal"; and India TV obtained CCTV of the Bhatia children buying school shoes (therefore, death was far from their thoughts?) and Lalit B sending money to someone. So, so what?
More From Shailaja Bajpai