Telescope: Now you see me | The Indian Express
Telescope: Now you see me
Sometimes a hug can jolt perceptions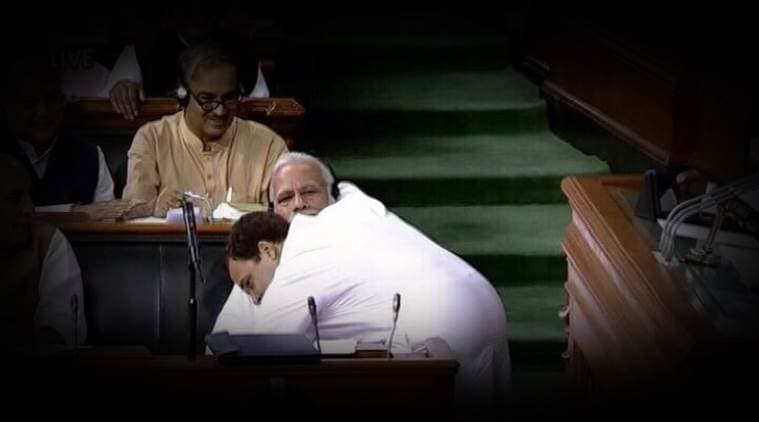 Rahul Gandhi emphasised that the act of embracing the Prime Minister was made to exhibit the difference between the ideology of Congress and the BJP. (Photo Courtesy: Lok Sabha TV)
Dear News Channels,
I just wanted to thank all of you, no, wait, first let me pull up my kurta sleeves and adjust the microphone the way I like to when I speak publicly — oh no, there is no microphone. Well then, this is a thank-you note — a tweet won't do or I would have asked Divya to compose one (good, isn't she?).
Where I come from, and by now all of you know only too well where that is because every day the BJP refers to the origin of my species: Pradhan Mantri ji, no less, says I come from a "naamdaar" parivaar. See, I can rhyme without reason, too. (Like some of you said during the no-confidence motion, Friday: I have done a Modi on Modi.)
Where I come from, you thank people for their help. The BJP may call me a "merchant of hate" — not the Merchant of Venice — but as you heard me say in the Lok Sabha: "You can abuse me. but I don't have a speck of hatred against you."
So let me express my heartfelt gratitude for all the coverage you have bestowed on me last week and before, good or bad. Single-handedly, you have done what I could not: Hyphenated Pappu with Pradhan Mantri, made me the first amongst equals in the Opposition.
When I can tear myself away from the presidency, of my party, or from Pidi — you made him famous, last year, by telecasting his party tricks video — and I watch TV, I see "2019" on all your channels with visuals of Pradhan Mantri ji and me (my photo often reversed, so my dimple appears on the left cheek).
He is looking one way, I the other. That I cannot understand: I looked him straight in the eye during my LS speech, you saw me. When he glared at me during his late night reply, TV cameras showed my response: I didn't blink, and no, of course I didn't wink — I stared right back at him.
That's another thing I have to thank you for: All of Friday, you were in love with me — didn't I say, I will "take this hatred out of you and turn into love" — and showered me with coverage of my "hug politics" (Republic). Truly, there was magic in what some of you called "jaadu ke jhappi" (News X). Others were less kind: "Only style no substance" (India Today), "Modi wins vote perception war" (Times Now); Soli Sorabjee said I was "childish" and should not be taken "seriously" (Mirror Now) but I am as forgiving as I am loving, so I forgive them, for they know not what they say.
Many of you take me seriously, nowadays. You debate either Rahul or Rafale (CNBC 18, India Today, CNN News 18). And Modi ji refers to me in every speech without naming me (that naamdaar problem he has) — did you hear him, Saturday in Shahjahanpur? Most of you, kindly, broadcast the speech, live, just as you have done since 2012. Doordarshan broadcasts every word Modi ji utters and ignores me, Rahul G — grandmother maybe to blame for that.
Since Friday, I am making the headlines: "Rahul for PM": Cong" (CNN News 18), "Rahul acceptable to allies?" (NDTV 24×7), "Rahul attacks BJP" (after Alwar lynching), "BJP ministers attack Rahul: Merchant of hate" (CNN News 18), "Rahul slammed" (Times Now). Rahul, Rahul, Rahul — it's a chant on the lips of the BJP and a chorus line for TV news.
You object to what I say and what I do. I can't take a holiday without you getting angry — don't you all ever take a day off — I can't even go to the movies without it becoming a debating point (Times Now after the Gujarat election results).
But at least I am always in the news, often more than Pradhan Mantri ji. Haven't seen much of him on your channels since the Alwar lynching. Where is he? Oh yes, in Africa, I believe, where he will bear-hug many leaders.
Well, I hugged the leader of my country and it has worked well for me. Why, even my strongest critics are changing. Listen to Rahul Shiv Shankar, Upfront, Times Now, Tuesday take on BJP spokesperson, Nalin Kohli, who was chanting my name when asked about BJP ministers' "absurd" comments on the Alwar lynching: "We can flog Rahul Gandhi… let's flog Rahul Gandhi… but he is not in government, you are." Did you ever think to hear his speak thus?
I am not surprised: "You (have) taught me what it means to be a Hindustani, what it means to be a Hindu. It means to love somebody even if they attack you."
So let bygones be bygones — come, let me give you all a hug. You, too, Arnab, I might even give you an interview, but this time…
The writer is vice dean, School of Journalism & Communication, OP Jindal Global University.
More From Shailaja Bajpai