NATO: After Trump letter, Spanish PM avoids committing to more military spending | In English | EL PAÍS
After Trump letter, Spanish PM avoids committing to more military spending
Pedro Sánchez's statements come in response to the US president urging Spain to increase its defense contributions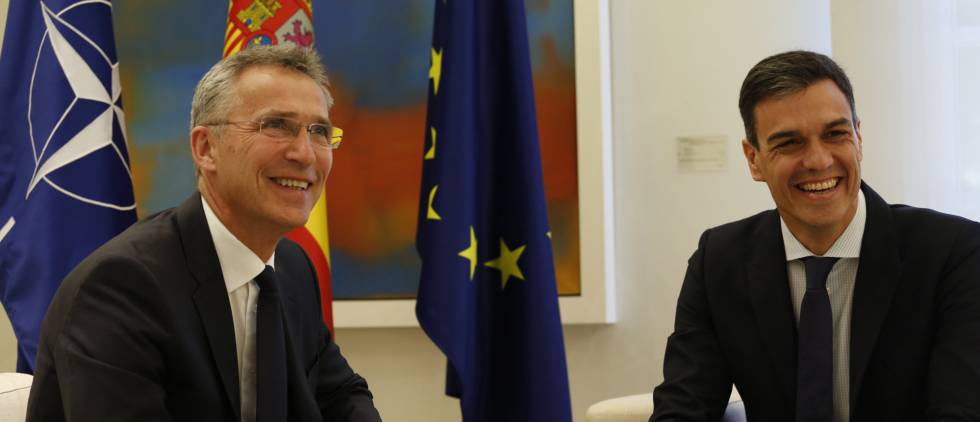 NATO Secretary General Jens Stoltenberg with Spanish PM Pedro Sánchez.
ÁLVARO GARCÍA
Spanish Prime Minister Pedro Sánchez on Tuesday told NATO Secretary General Jens Stoltenberg that a country's contribution to global security cannot be measured simply by a spending percentage, but also by other parameters such as "availability of military capacity" and "the willingness to use it."
Stoltenberg was visiting Madrid as part of a tour to discuss preparations for the NATO summit in Brussels scheduled for July 11 and 12. At the end of the meeting, the Spanish government issued a press release stating that Sánchez told Stoltenberg that Spain "has shown itself to be a firm ally that is committed to Euro-Atlantic security."
The release does not mention Trump's letter, the content of which EL PAÍS revealed on Tuesday. The US president reminded Sánchez that his predecessor, Mariano Rajoy, had pledged to raise defense spending during a bilateral meeting in Washington DC in September 2017.
NATO has also issued a release with remarks by Stoltenberg, who said that "Spain has stopped the cuts to defense spending and started to increase it." Stoltenberg also commended Spain "for investing in modern capabilities and making significant contributions to NATO missions and operations," including "participation in a NATO battle group in Latvia and in NATO's Air Policing mission in the Baltics; as well as for contributions to NATO's training efforts in Afghanistan and in Iraq."
Spain's foreign minister, Josep Borrell, alluded to Trump's letter by stating that even though Spain spends less than 2% of GDP on defense, it does so "in a very active manner" by participating in all NATO and EU missions. "So we spend less, but we use it really well."
Spanish diplomatic sources underscored that some NATO allies with much higher defense spending, such as Turkey or Greece, have a much smaller participation in NATO missions and focus essentially on self-defense.