Sexual harassment: #Cuéntalo: The hashtag women in Spain are using to tell their stories of abuse | In English | EL PAÍS
#Cuéntalo: The hashtag women in Spain are using to tell their stories of abuse
Widespread indignation over lenience of sentence in "Running of the Bulls" gang rape case has prompted Twitter users to share shocking accounts of harassment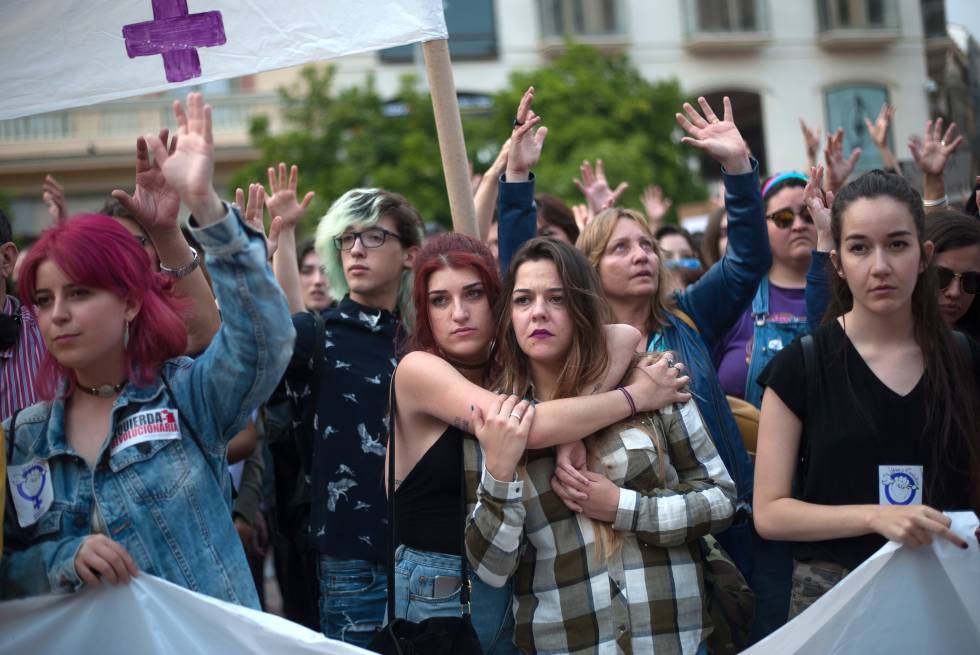 Recent demonstration in Málaga in the wake of the Running of the Bulls rape trial sentence.
SOPA IMAGES
GETTY IMAGES
"The man who should have loved me the most pulled the duvet off onto the ground, and that's where it all started." "A man drugged me by putting something in my drink when I was a teenager and took advantage of me in the middle of the street." "Aged 17 a man followed us, and when we reported it, the police told us that we were looking really pretty." "A teacher raped me for two years." "I screamed and tried to fight him off, but I gave up because it wasn't doing anything."
#cuéntalo It was my father and it started from before I can remember. Two, three years old? Younger? I've just turned 41 and I went back to therapy a few months ago, because, even though I thought I had, I've still not got over it. Chronic depression, anxiety attacks, nightmares… I never had a partner. I feel safe being alone.
13, middle of summer, an uncle of mine says to the rest of the men, while the women cleared the table: "What a great pair of tits she got this winter." He stopped being my uncle and became a man, a wolf, with a predatory power. I never treated him the same again #cuéntalo
I'm 18 years old.
Aged 14 a boy raped me. He was 21. DJ at a disco for under-18s. Until this very day I'm still threatened with death.
Aged 16 I was abused by a boy at my high school.
Aged 18, this year, a boy in my class tried to rape me.
I'VE HAD ENOUGH #Cuéntalo
Aged 19 I wanted to travel through Portugal alone. I arrived in Guarda, I visited the cathedral. A horde of guys started to watch me, follow me, say things to me. I gave up, went back to Barcelona. Never again have I traveled alone, apart from to visit big cities #cuentalo
The leader of left-wing anti-austerity party Podemos in Andalusia, Teresa Rodríguez, also shared her story. "First day of university. I'd left the village behind. Going to the first class. Nerves, excitement and pride. A guy on a bike stops me, grabs my tits with both hands and leaves laughing. Fear, shame, hatred. The city becomes an enemy."
Experts say that very few cases of sexual harassment of this kind are actually reported in relation to the amount of abuse and assaults that actually take place. Many women have used the #cuéntalo hashtag to recount the fact that they have not previously dared to tell their stories.
I'm on my sixth draft, but I'm not that brave #cuéntalo
I've not been able to tell it in public. I don't want to, but I have told it. And with every story I read in #cuéntalo my heart sinks a little more. It's the system. And we thought it was our fault.
According to a survey carried out for Metroscopia, 32% of Spanish woman have felt sexually harassed at least once in their lives. This percentage rises to 47% among women aged from 18 to 34. A quarter say that they have been touched against their consent or there have been attempts to touch them at least once. In one way or another, the stories being posted with #cuéntalo sound very familiar to many women.
Walking home alone at night
Looking back again and again
Keeping your head down if you pass anyone
Pretending to talk on the phone
Walking quickly
Getting your keys ready to open the door as soon as possible.
Able to breathe again once the front door is closed #cuéntalo
I'm 42 years old, I've seen and been through all kinds of situations and I am still yet to meet a single woman who hasn't suffered some kind of abuse or assault. None of us have reached adulthood without some kind of mishap or trauma. Are you aware of the scale of this? #Cuéntalo