Public holiday in Spain: May Day: More than 70 marches planned in Spain to demand better working conditions | In English | EL PAÍS
May Day: More than 70 marches planned in Spain to demand better working conditions
Unions warn that failure to improve wages and reduce job precariousness could lead to social unrest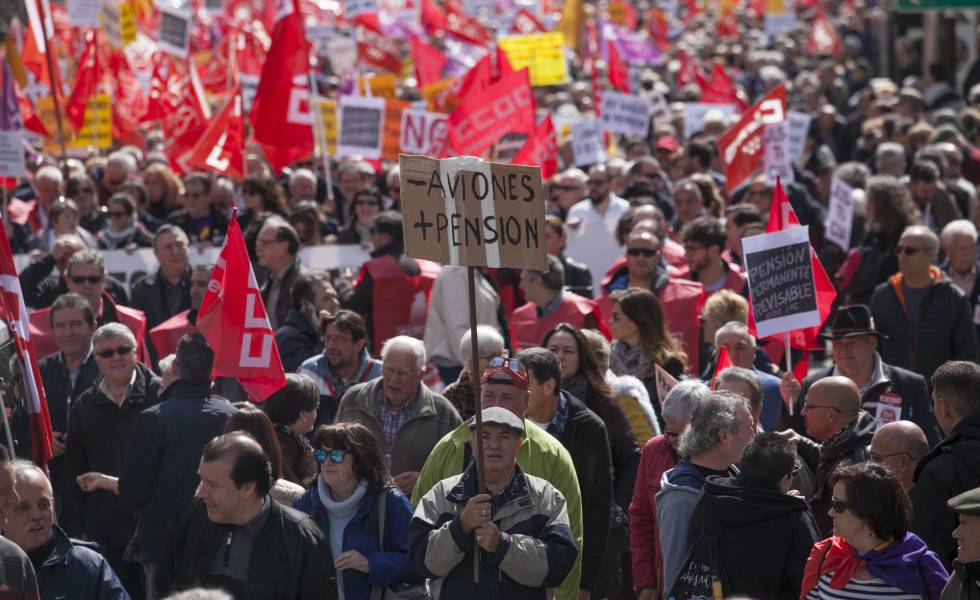 A Madrid rally in April demanding better pensions.
SANTI BURGOS
Unai Sordo, the head of CCOO, asked "for the streets to fill up with people in order to shake up the comfort zone that [employers' associations] CEOE and Cepyme are basking in thanks to the government's labor reform."
In Madrid, Barcelona, Valencia, Seville and Zaragoza rallies will be held at around noon.
"We are starting to see indignation, anger and impotence. Either growth is shared out, or there's going to be conflict," warned Sordo and Álvarez at the time.
Spain's third-largest union, USO, said it will seek pay raises based on the CPI cost-of-living index plus four percentage points.
"They're selling us the story of an economic recovery that is not reaching the workers," said USO leader Joaquín Pérez, who also had words of criticism for the two big labor unions. "They've proven that they have not been especially useful as a counterweight."
LUCIA ABELLÁN
The European Commission has rebuked the Spanish government's claims that it has no responsibility in reducing the gender pay gap. "It is up to the States to address the causes, and the Commission provides assistance through financial aid," said the executive branch of the EU in a parliamentary response.
In January, Prime Minister Mariano Rajoy was asked by a radio journalist about his thoughts on the fact that Spanish women earn 85.1% of their male colleagues' salaries, according to Eurostat figures. His reply was: "Let's not go into that. Governing officials must be very careful about not overstepping our authority, and there is certainly no government mandate to equate salaries." His words sparked an angry reaction, and Rajoy retracted and promised to "fight all the battles" against inequality.