Fake news in Spain: The business of digital manipulation in Spain | In English | EL PAÍS
The business of digital manipulation in Spain
Questionable websites are taking advantage of automatic online advertising systems run by Google, and publishing sensationalist, biased or untrue stories to seek clicks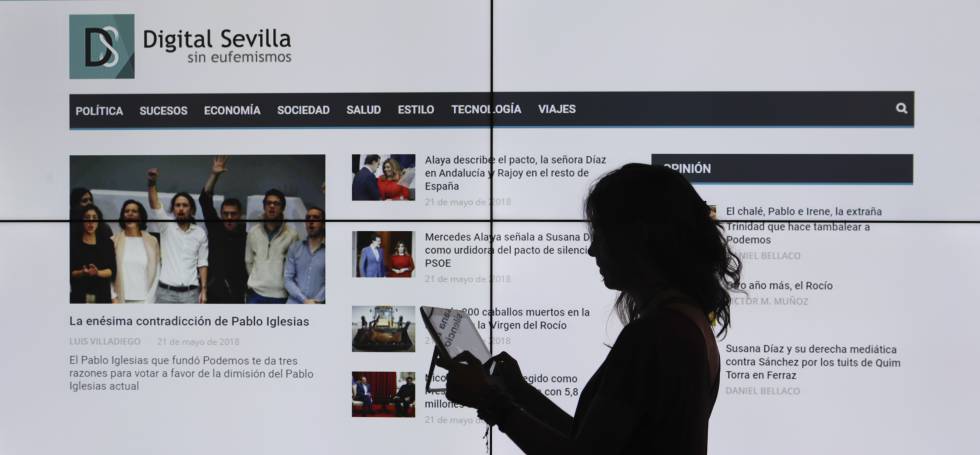 The homepage of 'Digital Sevilla'.
LORENA RUIZ
And by news coverage, he is talking about headlines such as: "The Andalusian Mrs Potato Head: from Jennifer to Susana Díaz," or "The striking resemblance between Susana Díaz and the 'evil lady' from Game of Thrones", or "Three things in common between Susana Díaz and Kim Jong-un."
Villadiego, a self-taught computer expert, says that these headlines are good examples of "a new language" that is having great success on the internet. His website, which is less than two years old, already attracts more online traffic than regular news outlets created by veteran journalists from Seville.
"We must be doing something right when we are reaching all those people, considering there's just a handful of us," says the young man during an interview in a cafeteria in his home town, Castilleja de la Cuesta, in the Seville metropolitan area.
Villadiego says he works from home with around a dozen volunteers, nearly all of whom are unpaid journalism students.
His success, like that of similar websites that have been attracting large audiences lately, is partly due to the tremendous exposure afforded by the social media, but also to the lucrative business of automatic online advertising, which rewards a type of content that many scholars and politicians feel is damaging to public discourse.
Many websites that post sensationalist, fake or hate-promoting content are being financed by ads served by automatic advertising platforms run by Google or other, smaller companies.
The more visitors come to Villadiego's website (and view the ads), the greater the returns. In his interview with EL PAÍS, Villadiego stated that on low months, his income is under €1,000. But people who know him personally said that he has boasted about making between €5,000 and €7,000 a month just from running Digital Sevilla.
"There are people who have given up their regular jobs to make a living out of this passive income," says Romero.
But this business model has created a perverse incentive: making money off disinformation. Eight of the main Spanish websites offering partisan and biased content, or outright hoaxes, are making money from ads managed by the Google Display Network, according to analysis by EL PAÍS. These websites include OK Diario, Esdiario, La Tribuna de Cartagena, Digital Sevilla, Caso Aislado and Mediterráneo Digital, which rank between 60th and 5,001st on Spain's most popular website chart, according to the analytics firm SimilarWeb.
These websites are very different to one another in terms of resources and content: some have dedicated newsrooms that occasionally break exclusive stories; others are run by amateurs who simply recycle content from major media outlets, often doing nothing more than tweaking the headlines. Yet others post xenophobic, sexist and demagogic material, and even deliberate hoaxes.
Sources at Google told EL PAÍS that the company has recently toughened up its policy to expel websites with inappropriate or violent content from the Google Display Network, which has over two million users. In 2017, Google investigated 11,000 websites suspected of twisting information, and included 650 of them on its blacklist.
While its terms of service expressly prohibit sites that promote hate, an analysis by EL PAÍS found ads hired through Google on sites showing xenophobic or sexist content. After being alerted by this newspaper, Google said it would blacklist all sites that violate its terms and conditions.
Several advertisers said they were not aware that their ads were showing up next to controversial content, and added that their advertising policies will undergo a comprehensive review. Companies buy ad space through the Google platform, where they select website categories, not individual sites. This means that they have to manually exclude unwanted sites one by one, said industry sources.
Under the programmatic advertising system, Google keeps 32% of ad revenue while the blogs and websites take the remaining 68%. Last year, Google paid out $12.6 billion to these content producers, according to company sources.
In 2014, Facebook introduced Audience Network, a network of ad spaces meant to compete with Google, and which Digital Sevilla also participates in. Disinformation sites often also subscribe to other ad services such as Taboola, OpenX or SunMedia.
When a hoax goes viral, it can be a gold mine for the digital tabloids, notes Alex Rayón, who teaches computer science at Deusto University. This expert wants programmatic ad platforms to exercise greater control over the sites. "Fake news sites are a rising trend, and they make a lot of sense when you consider how much money is at stake," he says.
Villadiego's populist style is similar to the tone used by the Granada doctor Jesús Candel, aka Spiriman, who has made a name for himself in Andalusia thanks to his social media rants about the regional healthcare system, and his insulting remarks about the Andalusian premier. Digital Sevilla often publishes articles repeating the slanderous remarks and phony claims made by Spiriman, such as his wild assertion that the Andalusian premier has more advisers (233) than the US president (who has 1,900 employees in the President's Executive Office).
"Brutal damage" to journalism
Although some journalists in Seville don't consider Villadiego to be part of the competition, others warn that most readers cannot tell the difference between Digital Sevilla and a news site whose content goes through traditional fact-checking processes. Digital Sevilla offers a mobile app, podcasts, Facebook and Twitter channels, as well as newsletters.
Villadiego views Digital Sevilla as a site that is free from the strings that come from depending on the large companies and government agencies who advertise in the mainstream media. Besides Google, Facebook and other online advertising networks, Villadiego earns additional revenues from paid inserts from fashion and travel companies.
Some observers are surprised that the Data Protection Agency has not fined a website with so much traffic, even though it openly violates Spanish legislation that requires information about the site and about cookies. "It's a pirate web no matter how you look at it," says Marina Brocca, a lawyer specializing in internet law.
"When I founded it, I admit that I was not expecting such quick growth, but it shows that people are really concerned about these issues, yet the main media organizations continue to ignore them or to relegate them to the background," said Bayer Sáez in an email.
Amateur sites
In 1999, Beaumont created El Semanal Digital (now called Esdiario). In a telephone conversation, he said that visits to his website began to grow exponentially in 2016, when he implemented a social media and search engine positioning strategy. "At first there was only a trickle of readers. It worked by word of mouth," he recalls.
While those first sites were created by experienced journalists, these days they are being developed by amateurs, often with a background in computer science. The veterans are aware of the threat that they pose.
Villadiego likes to underscore that Digital Sevilla has a readership beyond the region of Andalusia. Its articles have sometimes been mentioned in national television and radio programs. A few months ago, he celebrated the fact that one item in Digital Sevilla was recognized as having come up with the "Best Headline of the Year" by the popular television comedian Andreu Buenafuente.
"A lot of people who live north of Despeñaperros are reading us," says Villadiego proudly. "That's something that no other Andalusian news outlet has managed."