Mexico prison system: Mexico's women prisoners: doubly punished for not living up to female roles | In English | EL PAÍS
Mexico's women prisoners: doubly punished for not living up to female roles
Often poor and uneducated, they end up with harsher sentences after being led into crimes by male relatives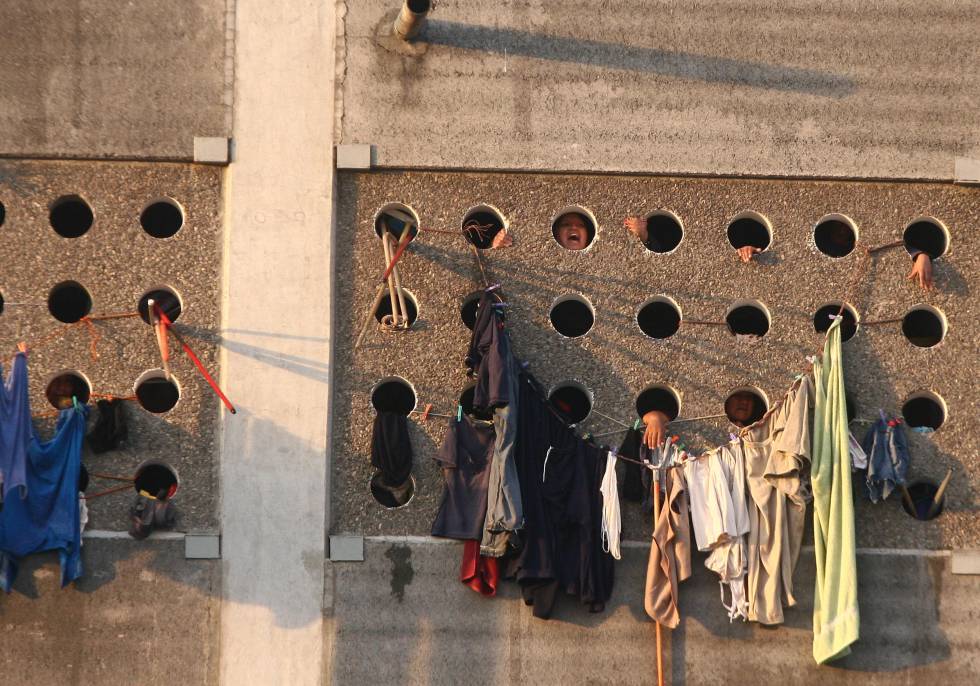 Inmates of the Santa Martha prison in Mexico, in 2008.
CUARTOSCURO
The number of women in Mexican prisons, many of whom are jailed because of toxic relationships with their husbands, boyfriends, father and brothers, has increased in the past three years, jumping by 72% in 2015, and by 103% in 2016 and 2017. That's according to a report from the non-profit advocacy group Equis Justicia para las Mujeres A.C., based on a study of three of Mexico's 102 women's penitentiaries.
There are 9,601 women detained in state prisons and 1,121 in federal prisons. In total, they represent 5.1% of the prison population, compared to the 217,000 men in jails, according to 2016 data from Mexico's National Institute of Statistics and Geography (INEGI).
Judges are much tougher on them because they are not fulfilling the role of the good mother

ISABEL BLAS
Around 53% of the women were jailed for health-related crimes, in particular drug trafficking. While there is no set criminal pattern, the not-for-profit says these women share many characteristics: they are poor, have a low level of education, belong to
marginalized communities
and, before being locked up, worked in humble positions (as cleaners, food sellers or traffic-light street vendors).
Their crimes are not violent and many of them have repeatedly been the victims of
sexual violence
. According to researchers at Equis, these women fall into crime for many reasons: gender violence, the feminization of poverty, addictions, and a crime-prone environment where men call the shots, particularly in a sexist society.
The truth is that there are not so many women who are drug lords like those portrayed in the soap opera La Reina del Sur, and many more who go into crime just to survive. While there are some inmates who belong to Mexico's most notorious drug cartels, the majority were trying to feed their children, come from broken families, or took the fall for other family members.
"Abuse, violence, rape or love, understood as a construction that reflects the inequality between men and women, can lead to the start of drug consumption, drug selling or drug trafficking," says Isabel Blas, an expert who contributed to the report.
"They talk about imparting justice but a
gender perspective
is not applied in these cases, and in other cases judges are much tougher on women because they are not fulfilling the role of the good mother, the caregiver, and give them much harsher sentences. There are also women who are rebels or simply drug consumers, but they wind up with years-long prison sentences."
In Spain for example, it is legal to possess up to 100 grams of marijuana or 5.7 grams of cocaine for personal use, while in Mexico, possessing more than five grams of marijuana is a crime – despite the recent debate around legalizing the drug in tourist areas. "
Drug trafficking networks
recruit the most vulnerable women for the lowest and most dangerous roles," the report finds, adding that they are usually "recruited by a partner or a family member" and see selling drugs as a quick way to earn money. Other times, it is a question of bad luck, of being in the wrong place at the wrong time.
That was the case for Raquel. The 29-year-old was working in a bar one night when she met a man, and after negotiating a price, she went with him to a motel. Once in the room, police officers broke in and, after beating up her client, decided to bring her in too for being a "whore." "One prostitute more, one prostitute less," said the officer, according to the account in the report. At the police station, they tortured her and subjected her to all kinds of
sexual harassment
. "Now we are all going to fuck you, there's more than 32 of us," they told her.
After threatening to kill her child and hurt her family, they forced her to repeat a list of names in front of a camera and photographed her in front of a table with weapons, drugs and money. The forensic doctor who examined her denied her claims, arguing the bruises that covered her body were not recent. Raquel has been in prison for four years and 10 months and is still awaiting a sentence for the sale of cocaine and marijuana and possession of arms.
"Those of us who are here did something, but we are not in here because of what we did." This phrase by one of the inmates sums up perfectly how women in the penitentiary system are
doubly victimized
, first for their relationships and secondly for being women. Once detained, they suffer more discrimination than detained men, and they are abused: some centers have even created their own prostitution rings.
As the National Commission on Human Rights in Mexico (CNDH) recognized, many are abandoned by the very people who got them involved in crime in the first place, and don't receive conjugal visits, as would happen if they were men.
In the best-case scenario, they end up living with their children in prison (618 women are in this situation), which only perpetuates the cycle of marginalization, given that effective measures for rehabilitation are glaringly absent.