BioEdge: Costa Rica's battle with IVF
Costa Rica's battle with IVF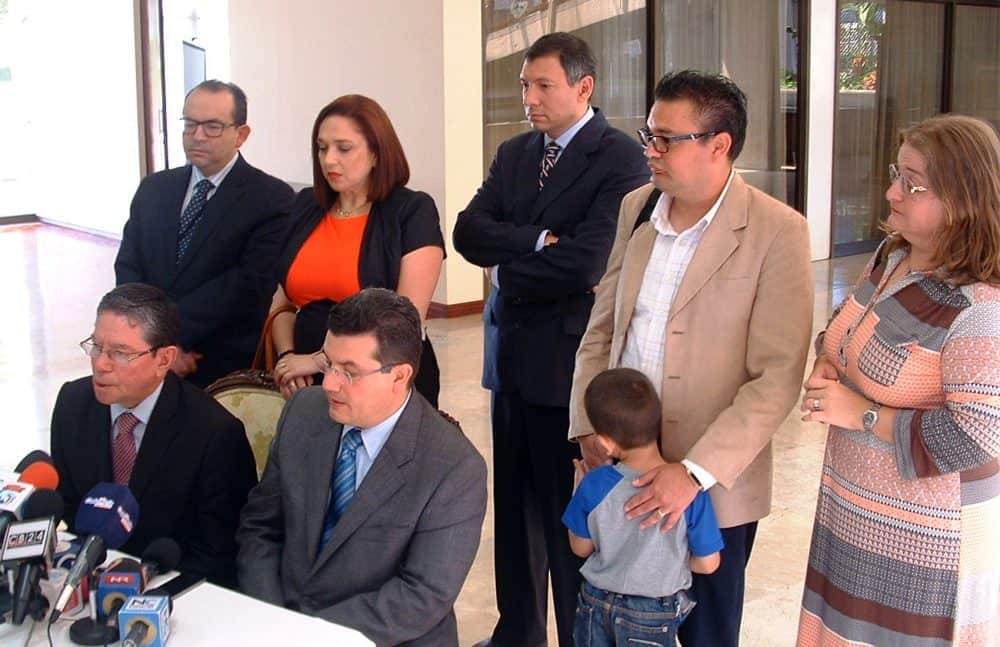 Couples who want Costa Rica's IVF ban lifted in a meeting last year with President Luis Guillermo Solís
In most countries, IVF is a fact of life, even if it is constantly caught up in controversy. However, in the Central American nation of Costa Rica, it has been banned since 2000. And four years after an international court ordered Costa Rica to lift the ban, the country's legislature and courts are still successfully stalling.
The Inter-American Court of Human Rights (IACHR) ruled in 2012 that lack of access to IVF infringed a right to private and family life. However, Costa Rica's constitution says that life begins at conception and IVF is criticised because it involves wastage of embryos. The constitutional court banned it in 2000 for that reason.
So IVF has become a political football.
Last year President Luis Guillermo Solís signed a decree to legalise IVF but the constitutional court annulled it, arguing that IVF should be regulated by law and not by presidential decree. Now the IACHR has ruled that a presidential decree is sufficient.
The president is under pressure from six couples who sued Costa Rica after the constitutional court's decision in 2000. They say that they can no longer wait, as their fertility is waning.
- See more at: http://www.bioedge.org/bioethics/costa-ricas-battle-with-ivf/11782#sthash.gI9qMXSE.dpuf
Neurodegenerative disease is often cited as a reason for requesting assisted suicide or euthanasia. So insights into the motivations of profoundly disabled persons who want to live -- like British physicist Stephen Hawking -- are valuable.
Another victim of ALS in the same league as Hawking is Mario Melazzini, the new chairman of the board of the Italian counterpart to the FDA in the US. He has been in a wheelchair for 14 years and is completely dependent upon carers. Nonetheless he expresses an infectious optimism about life.
When I started to look at my disease with fresh eyes, I understood it and made a fresh start on life. The moment I stopped thinking about what I could not do because of ALS, but what I could still do for myself, for my children and friends, my life changed …

Life is a gift, an asset which must be nurtured from the moment of conception to natural end, even with illness. Life must not be manipulated according to an ideology. We need to realise that in any condition, when properly supported, everything can be seen as a great opportunity … The only incurable thing is the will to live!
Michael Cook
Editor
BioEdge
BioEdge
Suite 12A, Level 2 | 5 George St | North Strathfield NSW 2137 | Australia
Phone: +61 2 8005 8605
Mobile: 0422-691-615
New Media Foundation | Level 2, 5 George St | North Strathfield NSW 2137 | AUSTRALIA | +61 2 8005 8605