Women breaking silence on abuse start a movement
|MercatorNet|December 15, 2017|MercatorNet|
Women breaking silence on abuse start a movement
And end some abusers' careers
C
ollectively, they get honored as Time Magazine's 'Person of the Year'.
The Silence Breakers
. They're speaking out about "the whisper network", the "culture of harassment" countless women have endured and feared for decades and longer.
These silence breakers have started a revolution of refusal, gathering strength by the day…
What started as a #MeToo social media campaign has become a movement that's quickly provided "an umbrella of solidarity".
When multiple harassment claims bring down a charmer like former Today show host Matt Lauer, women who thought they had no recourse see a new, wide-open door. When a movie star says #MeToo, it becomes easier to believe the cook who's been quietly enduring for years.

The women and men who have broken their silence span all races, all income classes, all occupations and virtually all corners of the globe. They might labor in California fields, or behind the front desk at New York City's regal Plaza Hotel, or in the European Parliament. They're part of a movement that has no formal name. But now they have a voice.
It's one of moments when a cultural phenomenon springs from a social media post that goes viral, then it's out of anyone's hands to control it. This one has been seized by the women who have long suffered fear, threats, bullying, disgrace, disrespect, depression, powerlessness and a range of other problems because of sexual misconduct or abuse committed against them in encounters usually with powerful men.
This was the great unleashing that turned the #MeToo hashtag into a rallying cry. The phrase was first used more than a decade ago by social activist Tarana Burke as part of her work building solidarity among young survivors of harassment and assault. A friend of the actor Alyssa Milano sent her a screenshot of the phrase, and Milano, almost on a whim, tweeted it out on Oct. 15. "If you've been sexually harassed or assaulted write 'me too' as a reply to this tweet," she wrote, and then went to sleep. She woke up the next day to find that more than 30,000 people had used #MeToo. Milano burst into tears.

At first, those speaking out were mostly from the worlds of media and entertainment, but the hashtag quickly spread.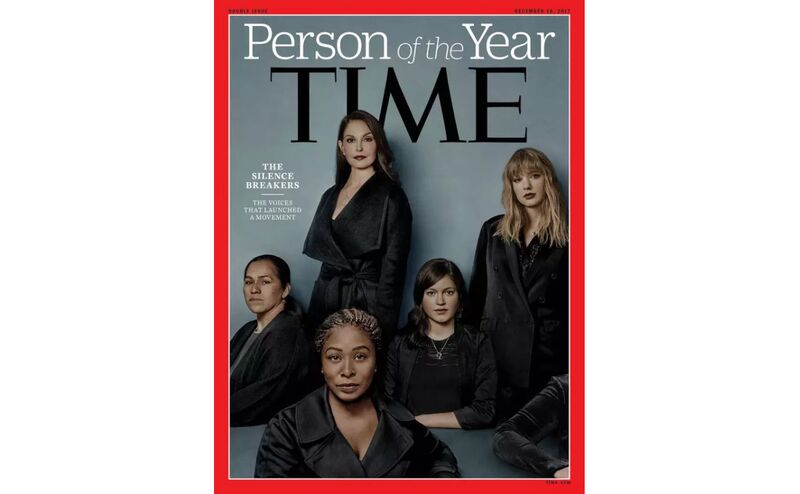 Interestingly, the women on Time's 'Person of the Year' cover include one who's only seen by her elbow in the right side of the photo. That was intentional, to carry
a message
subsumed in the overall story.
The mysterious elbow is a provocative artistic choice, and it's no mistake. Its owner is meant to represent the millions of women (and all people) who suffer sexual harassment and assault in silence—the people who cannot publicly come forward, for fear of violence, loss of employment, familial rejection, or any other reason. This obscured woman represents women who anonymously—yet forcefully—shared their stories of sexual harassment in the past year.

Time editor-in-chief Edward Felsenthal explained the photo crop today (Dec. 6) on NBC's Today show: "The image you see partially on the cover is of a woman we talked to, a hospital worker in the middle of the country, who doesn't feel like she can come forward without threatening her livelihood."
"The galvanizing actions of the women on our cover … along with those of hundreds of others, and of many men as well, have unleashed one of the highest-velocity shifts in our culture since the 1960s," Felsenthal said in a statement.

The Silence Breakers emerged amid burgeoning allegations of sexual misconduct and assault by film executive Harvey Weinstein. As his list of accusers swelled, so did the number of people who spoke up to expose dozens of other famous individuals in Hollywood, politics, journalism and other industries as sexual predators.

Actor Kevin Spacey, journalist Charlie Rose, comedian Louis CK and U.S. Sen. Al Franken of Minnesota were among the high-profile names snared in an ever-growing web of alleged sexual harassers. Last week, former TODAY anchor Matt Lauer was also accused of sexual misconduct.

The women, and men, who broke their silence to share their stories of victimization gave traction to the #MeToo campaign, which took off on social media and fueled a worldwide discussion on just how endemic sexual harassment has been.
Furthermore
Felsenthal noted the hashtag, which he called "a powerful accelerant," has been used millions of times in at least 85 countries…

"The idea that influential, inspirational individuals shape the world could not be more apt this year," Felsenthal said. "For giving voice to open secrets, for moving whisper networks onto social networks, for pushing us all to stop accepting the unacceptable, The Silence Breakers are the 2017 Person of the Year."
This new intolerance of what was so long tolerated, enabled, covered up and hushed up is moving politicians into action faster now than print news can keep up with.
This
Wall Street Journal article about how a Roy Moore victory in Alabama next week would benefit Sen. Al Franken wasn't two days old before Wednesday's
New York Times
, among others, was reporting on the growing chorus of Democratic voices, mostly women in Congress – though joined by Sen. Chuck Schumer – calling for Franken's resignation. Tuesday John Conyers retired immediately. Franken scheduled a Thursday announcement that should have happened Wednesday, minus the drama. It is likely he will have resigned by the time many readers see this.
Such are the times, and it's about time. What started as a 'moral moment' is still growing into a – please God – historic cultural shift away from sub-humanism, with women and children seen as objects and commodities. That's a much deeper, wider and larger story that needs the daylight sexual harassment is getting right now.
This should unite all people of goodwill, across all ideological, political and demographic divides. And it will be an ongoing story.
Sheila Liaugminas writes from Chicago. She is a journalist, author and host of A Closer Look on Relevant Radio
December 15, 2017
After two days we have quite a line-up of articles to end the year. Not surprisingly, several of them have a Christmas theme, but view the great holy day (holiday) from very different angles: through Tolkien's Father Christmas letters to his children; from beneath the Southern Cross constellation; through the nature imagery of a charming Neapolitan song; from outside an abortion clinic where carollers gather, and from inside a new animated film from Sony starring a donkey, a bird and a sheep.



Speaking of film, Michael Cook has highlighted some of the best movies of 2017. Peter Kopa reflects on the news that the mystery buyer of the 'Salvator Mundi' painting is none other than the Crown Prince of Saudi Arabia -- might this be good news for Christians in the strict Muslim state? I've sketched the moving story of a Polish born New Zealand woman who survived deportation to Siberia as an infant with her family during World War II. Toni Saad has already provoked discussion on the question of cremation…. And there is yet more. All links below.



Now it's time for me to say, Merry Christmas! Thank you for participation in the MercatorNet community during 2017! And you will hear from us again in the second week of January.
Carolyn Moynihan

Deputy Editor,
MERCATORNET
MERCATORNET | New Media Foundation