Burning H&M clothes instead of coal
|
MercatorNet|
December 6, 2017
|
MercatorNet|
Burning H&M clothes instead of coal
Sweden is using novel ways to protect its environment.
Mining and burning coal for fuel is harmful to the environment, but because it is so abundant and cheap many people are reluctant to give it up as a fuel source.
However, one Swedish power plant has come up with a novel way to replace coal; burn rubbish, such as deficient H&M clothing, instead.
The combined heat and power station is converting from oil- and coal-fired generation to become a fossil fuel-free facility that uses only renewable and recycled fuels by 2020. That means burning recycled wood and rubbish instead, including clothes H&M can't sell.
It's the largest station of its kind and
Sweden claims
it's one of Europe's cleanest. Bloomberg
reports
:
The Vasteras plant has agreed with its neighbor, the city of Eskilstuna, to burn all of its trash - some of which comes from an H&M warehouse…

The plant burned about 15 tons of discarded clothes from H&M so far in 2017, compared with about 400,000 tons of trash...

[It also] has deals with several nearby cities to receive rubbish and even imports waste from Britain to fuel its main boiler.
In 2015 Sweden
announced
an ambitious aim to become one of the first nations in the world to end its
dependence on fossil fuels
. The following table shows rubbish taking over coal as an energy source: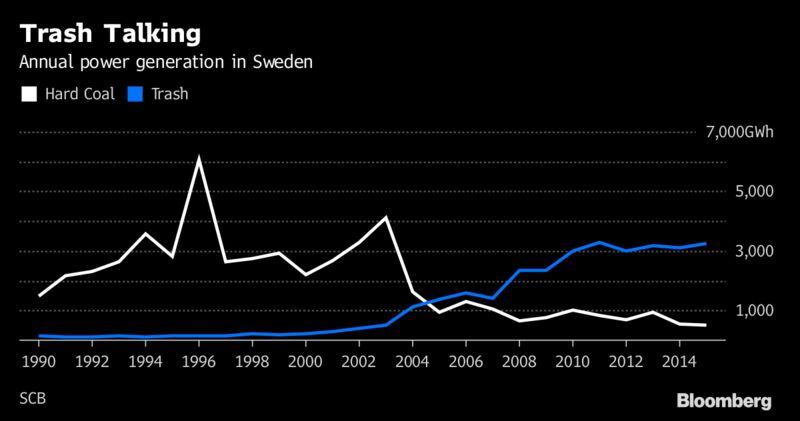 According to the Swedish government, the country has also already
heavily reduced
its reliance on oil, which accounted for 75% of the energy supply in 1970, and now makes up a 20% share. The country
has also invested
in bioenergy, solar power, electric buses and subsidies for green cars. Intelligent ideas to minimise waste and care for our natural environment should be applauded and investigated by other countries.
I don't know why Darwinists are so prickly about the Great Man's theory of evolution being questioned. As long as people are arguing about natural selection etc he will never be forgotten, but remain on the lips of schoolchildren and scientists alike, until (shocking thought) eclipsed by some other genius.
In any case debate about Darwin shows no sign of dying out. Today
Denyse O'Leary reviews Purpose and Desire
, a recent book by New York environmental scientist J. Scott Turner. The book's long title reveals the plot neatly:
What Makes Something "Alive" and Why Modern Darwinism Has Failed to Explain It
.
Denyse's review reminded me of an even more subversive title that came out earlier this year:
Charles Darwin, Victorian Mythmaker
, by A. N. Wilson, who has written numerous books on prominent Victorians. It has infuriated scientists but, perhaps for that very reason, sounds worth a read.
I wonder what Darwin would have thought of head transplantation? It is something that surgeons in China and Italy are attempting, though it sounds like unnatural selection to me.
Q: what's the difference between God and a surgeon?
See
Michael Cook' s article
for an answer.
Carolyn Moynihan
Deputy Editor,
MERCATORNET
MERCATORNET | New Media Foundation