Catalan independence: European Union fights the Kremlin's propaganda machine | In English | EL PAÍS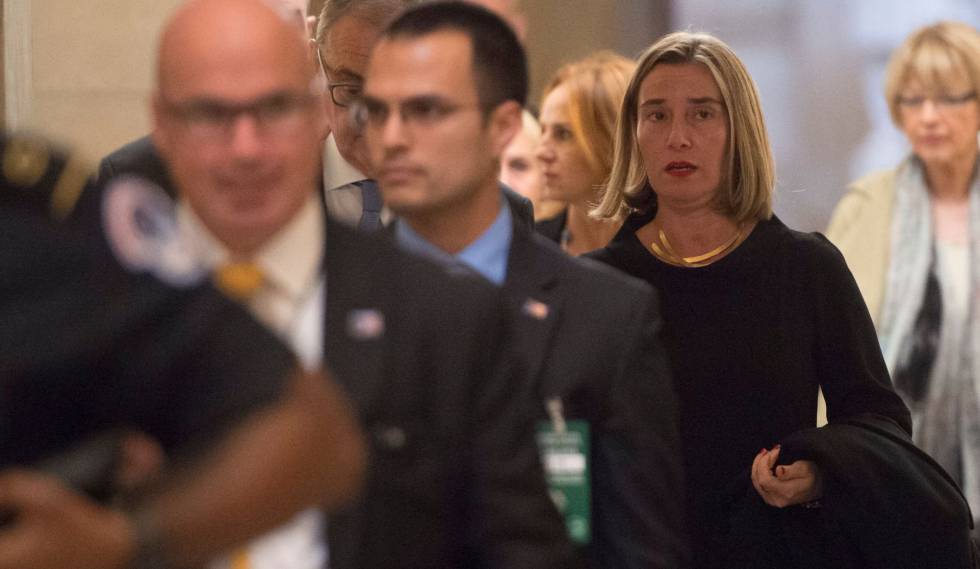 Federica Mogherini, EU High Representative for Foreign Affairs and Security Policy, at a meeting in Washington.
SAUL LOEB
AFP
A team of specialists created by the European Union in 2015 to detect and fight Russia's online attacks have noticed a significant increase in campaigns aimed at magnifying the Catalan crisis. This Brussels-based department, which answers to the High Representative of the Union for Foreign Affairs and Security Policy, says that its day-to-day activity debunking fake news coming out of Russia now includes Catalonia as a regular subject, besides more traditional topics such as Ukraine or the Baltic states.
Analysts for this team say that fake news on the subject of Catalonia have multiplied in media outlets with links to the Kremlin. Some recent fake headlines include: "Spanish now taught as a foreign language in Catalonia" (published in Vesti.ru on September 17), "The Balearic Islands join demand for independence from Spain" (September 21 on Sputnik), and "High-ranking EU officials support the use of violence in Catalonia" (October 2 on the Facebook page of the Moldavian politician Bogdan Tirdea).
The team, known as the East Stratcom Task Force, says that information about Catalonia has grown from four items a week to 241. Analysts who spoke to EL PAÍS on the condition of anonymity out of fear of Russian reprisals said that the information is aimed at weakening EU members states and suggesting a collapse of Western liberal democracies, with Russia as the alternative.
A classic example flagged by East Stratcom is a television program called Vesti Nedeli, which is aired on the Russian state network. On October 1, the day that Catalonia held a referendum that had been banned by the Constitutional Court, the program featured a special on the Catalan crisis. The host warned about the risk of a "civil war" in Spain, and called the central government "suicidal." "Spain is on the brink not of a conflict, but of a war," he said.
In a very common twist used by the Russian propaganda machine, a conspiracy theory was then posited that contradicted what the host had said earlier: "Maybe Brussels is interested in encouraging separatism in order to weaken national governments and get more power."
There are 17 people on the task force, including diplomats, journalists and computer experts, and it has a mandate to combat misinformation coming out of Russia. One of its tools is a website called EUvsDisinfo.eu, which hosts a database with a selection of the most common lies disseminated by Russian outlets.
According to the East Stratcom Task Force, the Kremlin invests up to a billion euros a year on its public media outlets. These include two that operate in Spanish: RT, with a presence in 100 countries, and Sputnik, which publishes stories in 33 languages. On top of that, the Russian government amplifies its fake news and hoaxes through troll farms: companies that use phony, automated social media profiles to ensure maximum impact.
Although there is almost unanimous agreement in Brussels that the task force's job is essential, there are many who criticize the shortage of funds allocated to it. In March, 120 politicians, scholars and intellectuals asked High Representative Federica Mogherini to triple East Stratcom's capacity and earmark more funds for its mission. For now, East Stratcom has no budget of its own and works with funds from the communications department of the EU diplomacy department.