Catalan independence: "Calling these people political prisoners shows a lack of respect" | In English | EL PAÍS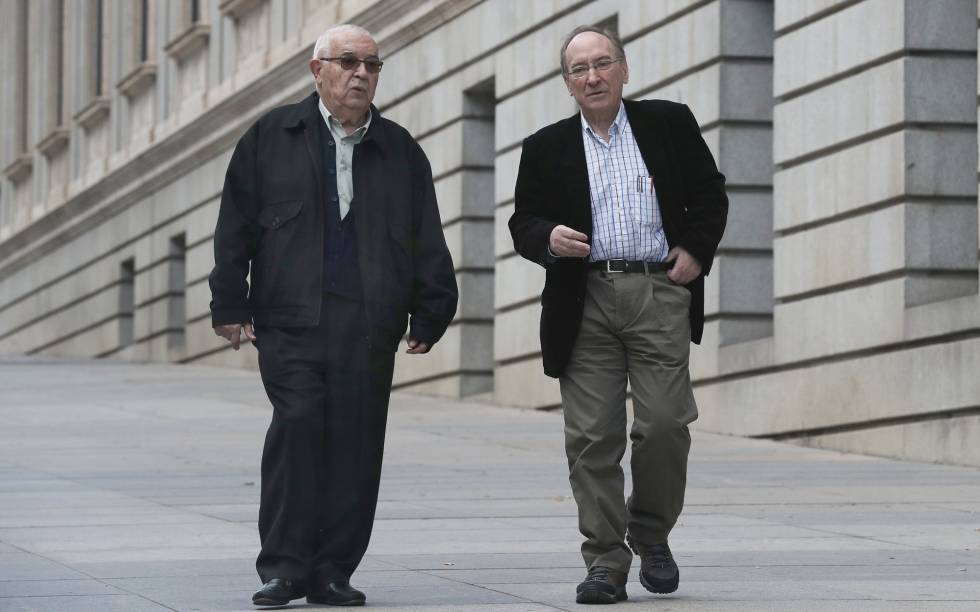 Political prisoners Víctor Díaz and Raúl Herrero.
ULY MARTÍN
Yet he views it as an insult to have them described as political prisoners, as Catalan separatists and the left-wing anti-austerity party Podemos are doing.
"They are politicians in prison, not political prisoners," adds Raúl Herrero, a member of the Spanish Socialist Party (PSOE) and a former PCE leader in Madrid.
"It is debatable whether you could legally talk about rebellion [by former Catalan officials], but don't talk about repression to those of us who have mobility problems due to beatings inside Francoist police stations," says Herrero. "I'm not the emotional type, but what's going on today has nothing to do with those days."
"The Jordis and Catalan government members are being unfairly detained, but you can't just casually call them political prisoners, because you would be drawing false parallels between democracy and fascism or dictatorship. We cannot do that – especially for the sake of the new generations," agrees Carles Vallejo, 67, who is president of the Catalan Association of Former Political Prisoners under Franco.
Vallejo was sent to Madrid's Cárcel Modelo twice: once in 1970, for organizing the Comisiones Obreras (CC OO) union at a well-known auto factory. "Later I was forced to go into exile because the prosecutor was asking for 20 years behind bars for crimes that are no longer considered as such. Each situation should be looked at in context. Fascism is complete arbitrariness. You cannot draw these comparisons."
The torture sessions were "a horrible nightmare," he recalls. The punches, the kicks, the interrogation sessions every two hours, the lack of personal hygiene, the solitary confinement that made him lose all sense of day and night… It was 20 days of hell inside the Political-Social Brigade headquarters. "They threatened me with a gun, but the worst part was the uncertainty," he remembers. "You could be held there indefinitely, because we were in a state of exception. There were no limits."
"To say that there are political prisoners in Spain is to falsify history, and it is hypocritical as well," says Antonio Gallifa, another former PCE leader, in angry tones. He got a four-year sentence for presiding a clandestine assembly of CC OO delegates in an abandoned factory, was sent to Carabanchel prison, and was subjected to torture like the others.
"After nearly a month that was not exactly pleasant, I still hadn't given them a single piece of information," notes Gallifa proudly. "I confessed to nothing."
This victim of Francoist persecution believes that the people behind the unconstitutional independence push in Catalonia are "criminals" who have committed "one unlawful act after another."