Singing a political tune | The Indian Express
Singing a political tune
Controversy over the cancellation of a T M Krishna concert sees meanings and narratives that do not exist. And it is hypocritical to act as a vicious political activist while claiming the privileges of an artist.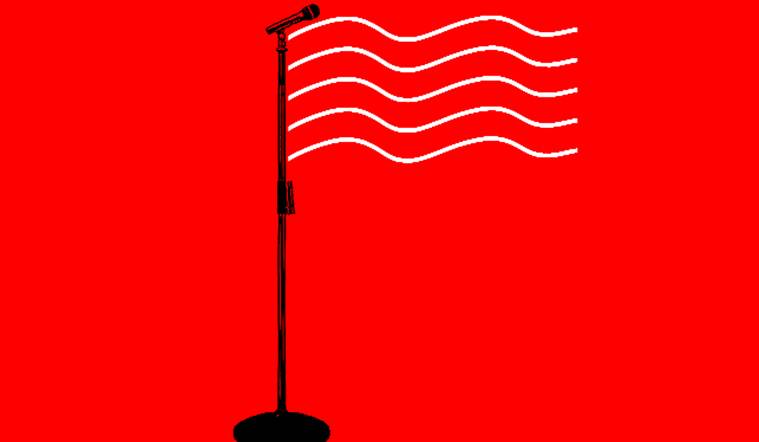 Krishna's political views are more than well known but that has never prevented him from performing anywhere across India. (Express Illustration: C R Sasikumar)
Artists are the conscience-keepers of every society. In their voices, words and work, are the views of the millions of those who are unable to express themselves, either by compulsion or circumstance. When an artist speaks, he or she is not merely speaking for an individual but also a wider community of people. Which is why, when artists speak, they must also speak with respect for facts.
As an artist with over five decades of experience, one has to be prepared for any eventuality, including the cancellation of a programme. I am sure this was not the first or the last programme of Krishna's that has been cancelled.
The third and important part of my argument stems from the point I made about the conduct of artists. What we say and do must be in the realm of facts and logic. Of course, disagreements with those in power is natural for an artist — our minds are too free to be boxed into particular groups and parties.
However, what is disturbing is when such disagreements take a bitter personal tone. I was extremely disappointed when Krishna (since we are talking about him), called Prime Minister Modi's Israel visit ill-advised and much worse, a "love fest". Surely, such a phrase has no intellectual connotations attached with it. He has spared no opportunity to personally criticise the prime minister, his political background, equating him with other leaders and more. His views are not those of an artist but those of a political activist, which again is fine. But one only wishes he explicitly says so.
Artists can be activists but they cannot make it mandatory for everyone to support this love for activism. It is also high time that many people in our fraternity stop linking every problem in their life, starting from the cancellation of a concert to more, to Prime Minister Modi (who has, as a matter of fact, had a continued engagement with Spic Macay from his days as chief minister). This trend exposes a deep intellectual bankruptcy, something no artist ought to have.
There is no moral superiority in either being an artist or a political activist. Both work in their own domains. However, it would be hypocritical to act as a vicious political activist and claim the privileges of an artist. It would also be immoral. If you are convinced about your political activism do it openly like thousands of others. Don't use the garb of art to promote politics. And, do not see imaginary hands that do not exist.
The writer is a Rajya Sabha MP