Elections and borders | The Indian Express
Elections and borders
India's refusal to talk to Pakistan has much to do with BJP's electoral narrative.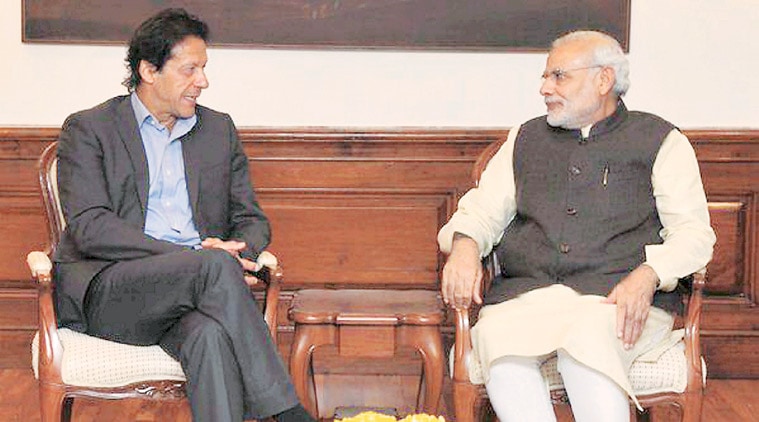 Prime Minister Narendra Modi with his Pakistani counterpart Imran Khan in New Delhi. (File)
This tactic gained momentum during the 2014 election campaign. In March that year, Modi tweeted, "3 AKs are very popular in Pakistan: AK 47, A K Antony & AK-49". While Antony was the then UPA government's defence minister, Modi dubbed Kejriwal "AK 49" in obvious reference to his first term of 49 days as Delhi's chief minister. In a meeting in Hiranagar in Jammu and Kashmir, he said that the three AKs were helping Pakistan in different ways. In Kejriwal's case, this accusation stemmed from the fact that "his website shows Kashmir as part of Pakistan". Antony was seen as too weak vis-à-vis Pakistan. One month later, a former BJP minister of the Bihar government and a future Union minister, Giriraj Singh, declared at an election meeting in Mohanpur in Jharkhand: "Those opposing Narendra Modi are looking at Pakistan, and such people will have a place in Pakistan and not in India."
Modi himself never indulged in such rhetoric, but constantly referred to Pakistan during subsequent election campaigns. The 2017 Gujarat assembly election is a case in point. During the campaign, he declared: "There was a meeting of the High Commissioner of Pakistan, the former foreign minister of Pakistan, the former vice president of India and the former Prime Minister of India Manmohan Singh at Mani Shankar Aiyar's house (…) My brothers and sisters, this is a grave matter. Pakistan is a sensitive issue; what was the reason behind this secret meeting with that high commissioner, especially when elections are taking place in Gujarat?"
To suggest that Congressmen were conspiring with Pakistanis over a dinner (that, incidentally, held no secrets) was part of an electoral tactic, but it also aimed at creating a politics of fear. Such politics were fostered by alleged recurring jihadi attempts to assassinate Modi, that were exposed by the Gujarat police in the early years of his tenure as CM.
The way one relates to Pakistan can be used as an acid test, not only to polarise society along religious lines but also to differentiate the patriots from the traitors. The February 2016 JNU event that resulted in the arrest of Kanhaiya Kumar and others is a good illustration of this process. They were arrested because of the alleged anti-national slogans they had raised — these were publicised via video broadcast. Journalist Vishwa Deepak gave a revealing testimony after resigning his job at Zee TV: "The video, that never had a slogan of 'Pakistan Zindabad', we ran again and again to stoke passions. How could we convince ourselves so easily that the voices in the darkness belonged to Kanhaiya or his friends? Blinded by prejudice we heard 'Bharatiya court zindabad' as 'Pakistan zindabad'." Deepak does not attribute the words, "Pakistan Zindabad" to any doctored tape, here, but to his own confusion, the confusion that had been created by propaganda.
Pakistan has become part of India's election campaign for good reasons. Election campaigns are the right time for debating issues such as national security. And there is evidence of the fact that the ISI did orchestrate the Mumbai attack in 2008 and engineered infiltrations of jihadists though the Line of Control. Other terrorist attacks, including the one in Pathankot, have also been convincingly attributed to the Pakistani security establishment.
But peace talks are made even more difficult when the party in office tries to mobilise voters by highlighting its military achievements against its neighbour. For instance, in an Aap ki Adalat show in September on India TV, Defence Minister Nirmala Sitharaman was asked: "During the election campaign, you people had said that if they cut two heads, we will cut 10 heads. But 10 heads are not really being cut." The minister responded: "We are also cutting heads, but not displaying them." Another election campaign has started.
Jaffrelot is senior research fellow at CERI-Sciences Po/CNRS, Paris, professor of Indian Politics and Sociology at King's India Institute, London