A myth-maker for our times | The Indian Express
A myth-maker for our times
Stan Lee wedded a galactic scale with relatable characters. His stories paved the way for many of today's progressive conversations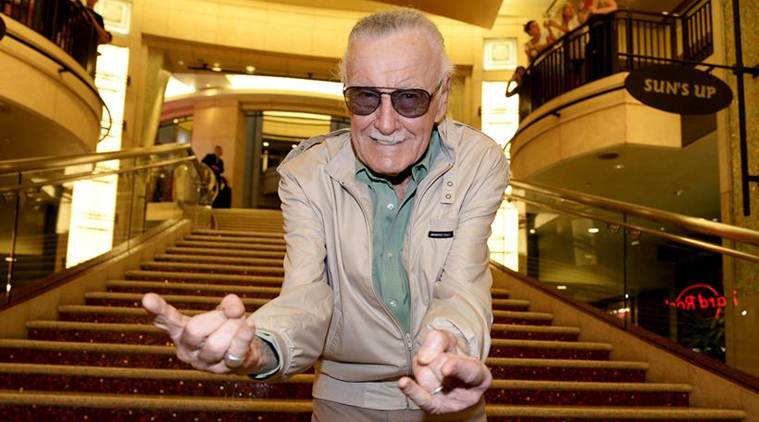 Lee's job wasn't writing mere comic books or filling speech bubbles. He was primarily involved in myth-making.
"Of what import are brief nameless lives. to Galactus?" — Galactus, Devourer of Worlds Fantastic Four, Stan Lee and Jack Kirby (Vol. 1, No. 49, April 1966)
On the page, a comic book writer's space is one of frugality. It is the artist who has the luxury of a blank canvas. But on the script the writer gets hers back — a true economy of scale — the possibilities always endless. Stan Lee lived in that empty space of endless possibility. He usually narrated an idea to artists, and filled the empty speech bubbles after the art was completed. Along with collaborators like Jack Kirby and Steve Ditko, he ended up creating not just children's comics — Lee created a universe. A pantheon. His job wasn't writing mere comic books or filling speech bubbles. He was primarily involved in myth-making.
Like a lot of Indians, I too grew up on stories from India's epics — stories with clear blacks and whites, with morals, with losers and winners. But each story had characters that were relatable, the morals and values implicit, never overtly spelt out. They made mistakes, they suffered, they were confronted by strong moral choices and they sometimes made the wrong ones. Even the villains sometimes seemed justified in their decisions.
It is probably the reason why I was and continue to be attracted to the works of Lee. Walk into a mall on a Saturday evening anywhere in urban India and you are bombarded with t-shirts of Iron Man's Arc Reactor or Captain America's shield as a child's backpack. I dare say, like it is for me, it is that meeting of galactic scale and relatable characters that make his work so popular.
It is why Amar Chitra Katha has been doing what it has been doing for over half a century. It is why the Baahubali franchise goes from strength to strength. It is also the reason why Infinity Wars is the most successful foreign film ever to be released in India. It even got a re-release in Hindi this Gandhi Jayanti weekend.
It is true that Lee's work is really getting the exposure it is through the Marvel Cinematic Universe. More people probably know him for his ubiquitous cameos in the many films rather than his comics. But that doesn't take away from the fact that he created a mythology on an epic scale, and most importantly, a contemporary mythology.
Take for example the X-Men, fighting for the rights of mutants in human society. Or Black Panther and the response to the film among African Americans. Lee had found a way to talk about gender, LGBTQ rights and racism in the 1960s in what were then only seen as children's books. Yes, he was ahead of his time, but his work also paved the way for some of the conversations we are having today.
Lee also gave us countless awkward, geeky heroes and heroines. Spiderman works because he is having the same problems most adolescents have. Bruce Banner will probably choose to be cooped up in a lab rather than fight as the Hulk. But fight they do and inspire countless little boys and girls to fight bullying, to face up to the world — to always embrace the little stream of light in a world of darkness. That has always been the power of children's literature — the fact that it empowers readers to choose their own imaginations and fight and survive adversity, however small they are.
Lee embraced that spirit like no other. In his monthly "soap box" column, responding to letters from readers, he would sign off with the word, "Excelsior!" Excelsior is Latin for "ever upwards", a motto he chose to define himself with and, more importantly, one he chose to share with each reader across the world.
I quoted his most fearsome creation, Galactus, at the beginning of this article as an example of the frugality of word but scale of thought that Lee brought to the page. But Lee, having died at the age of 95, more famous than most children's writers, lived a life that was neither brief nor nameless. His work will continue to live well past his death. Myths don't die easily.
Excelsior!
The writer is group creative director at Amar Chitra Katha